Welcome
Here you can find links to free music, videos and literature by Mike Dickson, Systems Theory, Greg Amov and the Ashley-Dickson Immersive Experience.
---
Journal 2023
29th November 2023: Dysphoriant released. This one came together very quickly. At least of of the tracks could lead me into serious copyright issues, but fortunately none of it is recognisable in the least. The first two tracks here are really good, the other four being good in parts. Very abstract stuff. I am not sure how much one could 'listen' to this.
13th November 2023: Shore released. Quite an odd mood to this one. Some of the music is very strong without feeling strong.
1st November 2023: Always liked this artwork:
Perhaps predictably, I've never cared for the music much, but the artwork is quite beautiful, especially on the textured sleeve.
Watching the 'making of' documentaries out there about Genesis is quite amusing. The one who comes across the best is Collins who comes across as quite a happy doughnut, despite his much-publicised love-life miseries. The rest of them don't fare quite as well. Banks appears to be horridly and bloatedly headstrong, claiming the success for everything, albeit in a diffident, eyes downcast, humblebragging sort of way, as though he has a biro message on his hand reading BE MORE ASSERTIVE. Hackett has that thing going on where he keeps scratching his nose, indicating that he does not really want to make it look like this stuff matters to him, but which is actually destroying him inside and has been doing so since about 1976. Rutherford sounds like an upper middle class gentleman (who probably did have a smoking jacket when he was 20), and poor old Gabriel has such faltering speech that you sometimes wonder if he is experiencing a stroke on camera.
One day I might put together all the Genesis tracks that I really like. I think I could get a world-class album out of them. Sadly, they make a whole bunch of utter clunkers. The second I met the name King Crimson (ironically within the pages of a book about Genesis) I never really went back to them for years, and when I did I found that they fell miles short of that discovery. Above everything else, there is that lack of that most English of qualities: that love of whimsy. All the tinkling about musical boxes, hogweed and selling England leave me pretty cold. It all seems a bit regressive.
I've replayed the six tracks from Shore last night and am pleased that they still sound fine, but realise they need some small additions as well as some balance.
Just reading reviews of Larks Tongues in Aspic 50th Anniversary edition, featuring remixes by Singleton and Steven Wilson, plus instrumental releases of the songs. I am unsurprised to find that it's about 'insight' and 'separation', and has nothing to do with a more rewarding listening experience than the three quid Polydor repress I bought from Phoenix Records in 1978. As ever, if has Wilson's name on it then it's doomed, a bit like the subjects of Rick Rubin's recording history. I'd be really pissed off if I had spent the 36 sheets on this that is demanded. If I were the struggling artist I'd be lobbying to keep file-sharing open, since that at least gives one the opportunity to try-before-you-buy so that the decent stuff gets a fair hearing. Without it I might not be buying anything at all. (And yes, already I can hear the Fripp ape-ists and apologists going on about how no one is forcing you to buy it... No one is forcing anyone to make a substandard product either...ahem.)
Got Hero and Heroine by The Strawbs on play now. Never heard them before. After this I doubt I will be listening to them again. If Barclay James Harvest were English Third Division then this lost are in the Vauxhall Conference. I was told about this one on recommendation. Eech.
I officially don't get prog rock...
30th October 2023: A bit of a crazy day today. A serious burst of inspiration might have the next one half-copmpleted already. The best plan is to let it lie fallow a while and see how good any of it actually was. At least one thing I did today is positively outstanding.
This helped a lot...
29th October 2023: Anthem now released. Very happy with this one, and with the others in Ambient. The next one will be the last in the current series
26th October 2023: Yes, I have admitted that my artwork for Anthem has been made by AI available to me. It's a solution to a problem (which is that I am not artistic) and that the results can be interesting, convincing and - best of all - quite surprising. Take this one, for example - the artwork for Anthem 12. The image itself is excellent and more or less what I wanted, but the detail shows an issue:
25th October 2023: A big upgrade in the works:
I have little doubt that it's a solid build as are all their releases, and that it's worth every penny. But here is my issue: I have been using Reaper since v5 and I don't think that any of the myriad features they have introduced since then have troubled me one particle. I follow the excitement over the release on Reddit and am genuinely pleased to see that the product is still in development and is still generating a lot of interest, but when I look at the new features and the (remarkable) tutorial videos put out by (Christopher Walken soundalike) Kenny Gioia I realise that most of the new ideas they have put into place are only making things that I have been doing for years slightly easier. And in learning a new skillset (or keystroke combination) it only adds to the complexity of the workflow that you have in place for music production. There are new processes for running and selecting from various takes (AKA 'track lanes and comping') but these seem restricted to those who want to take the sounds from multiple takes (which in Kenny's example, all sound the same!) and decide what sections from each take should be seleeted: a line here, a phrase there, etc. I'd sooner do the whole thing again. This is just the first example I have found, but it's one that I think is illustrative. The othert differences are in the interface (colour themes?! really?!), some way of separating tracks to make them easier to differentiate, and a few other noddly things which hardly merit a major version upgrade, really. When I mentioned this on Reddit, this was met with mild derision by one who said that using my older methods are 'wasteful' of tracks. But to me we're not doing track management like we had to on 4 track tape here. It's digital!
I will give it more time to sink in, but to me this is an other example of Excelitis where a product starts bristling with features you'll never use, thereby over-complicating the model entirely. And when that happens you have a whole other set of issues to cope with. Already, the bug reports are rolling in for v7.00 and v7.01 was released with their usual impressive speed. Simplicity is a good model, sometimes.
Update: Not six hours later, this drops:
Next one in the queue. Shore.
24th October 2023: Anthem is charging along nicely. The artwork is being generated by a series of AI devices (as have nearly all of the Ambient series), results of which have been 'mixed' to say the least. They don't deal with nuance very well yet, so you have to be quite explicit in what you say and with what you request. I can see the 'A' but the 'I' remains elusive.
And talking of 'explicit' I tried out a recommended AI image site only to find that it gave you back pornographic images in return, which I found less than helpful. Having said that, they were incredibly realistic and actually followed the prompts better than the 'real' AI site I was otherwise using. Shows you where all the effort goes. Motivation is a wonderful thing.
Very worryingly, there are AI image sites which will offer to 'undress' a subject of photograph of anyone, or create an explicit image predicated on an uploaded picture of a real person, presumably without them knowing it. 'Prank your friends' the web site declares, omitting entirely the bit about spending three months at His Majesty's Pleasure. We really are a curious species. The Internet might be one of mankind's greatest triumphs of communication, knowledge and technology...but it seems to cater in substantial part for weird incels who don't understand society whatsoever.
10th October 2023: Antiphony released.
9th October 2023: microKorg disassembled and cleaned up to extract as must dirt as possible. One stuck 1.5mm grub screw could have ruined the whole thing (top tip: use a 1.5mm star headed screwdriver and some pressure) but now it's in bits I see some things that need replacement, mostly microswiches and some translucent plastic buttons. The latter are up for 20 pounds each on eBay with about a tenner carriage. Four would amount to about helf the price I paid for the whole thing. I may opt just to change the switches and live with the rocky buttons.
Watching this on BBC iPlayer...
Gordon Bennett...this is grim. Coogan is utterly convincing and completely brilliant...but...god almighty. One thing I have noticed though is that the BBC seems to get away with a lot. It's him, not us. Their management seems to have been light to the point of non-existent, and surprised when the news about JS is not good news. Again, it seems to be a case of 'everyone knows but no one did anything', which is inexcusable.
7th October 2023: Dug this glorious bastard out for a deep clean and a revitalisation yesterday. I had forgotten how huge it sounds. It's already being used on the next, which is to be called Anthem.
Work in progress....
5th October 2023: Penny Mordaunt appears to lose her mind completely here:
And this is about as good as it gets...
As promised, more about this recent purchase:
It feels solidly built and has a bit of weight to it. Having tested it I can see that it has a genuine stereo signal (as opposed to another I returned which had two microphones which produced only a mono signal) but it could do with a bit better separation - you could mistake it for mono: processing it by enhancing stereo width sorts this though.
I tested it out at an organ recital and got a recording that was worthy of a decent bootleg (if I was inclined to do that) and the Edinburgh street ambience of dogs, trams, sirens, busses, chatter and yelling came out really well. I'm happy enough with it for a fifty pound purchase anyway. I'll be using it to put together some ambience recordings to process into sounds for Decent Sampler. Stay tooned.
Antiphony about to come to a close. I was closing it up with eight tracks but then had a flash of inspirartion and lashed up two more really quickly. One of them was helped by an outstanding Decent Sampler library named The Spellsinger, a recording of one woman singing (and other things) inside a church with a single stereo microphone.
Ladies and Gentlemen, Mr. John Wayne from a Playboy interview, May 1971:
Eyebrows to be applied to Antiphony yet.
4th October 2023:
If there is a better written TV series than this one then please let me know, as I am dying to see it. I find this one to be just about the only series I can watch repeatedly and still find funny.
3rd October 2023: Yet despite everything else, there is no escaping the fact that Pink Floyd - for all their work - cannot escape from this man:
Obviously thir first album has him all over it, and he appears twice on their second. (When he was not playing the rest of the band were trying to sound like him). He's subtly checked on Atom Heart Mother, was the reasons for the 'inner space' view from Echoes and the Brain Damage from Dark Side of the Moon. Then they wrote an entire album about him (more or less) and even described him to a 'T' on Nobody's Home on The Wall, the central premise of which is a rock star losing his mind. A preoccupation with madness throughout their entire writing career is surely informed by Syd, and the list of books, videos, films and musical tributes to Syd are legion, to this day.
Syd Barrett last released music in November 1970.
So why is there still a continued fascination in the man who was completely removed from public life more than fifty years ago, and who left behind one Pink Floyd record, bits from their second, a couple of non-album singles, two solo albums and some other fragmentary recordings, most of which are horridly substandard even by the most generous evaluation and all of which was recorded in a little under three years?
Personally...I think it's guilt. Am I wrong?
30th September 2023: Slightly overdoing it on Pink Floyd videos, enjoying most of them and finding a bit of the cringe about the rest, particularly the interviews, where Waters, Mason, Gilmour and Wright have to go through the same old stories (meeting...Syd...floundering about...Echoes...Dark Side of the Moon, falling out...) and all four of them looking bored out of their minds by all of it. The only person remotely engaging is actually Waters because he was writing about timeless subjects and motifs which can still engage conversation. The other three don't seem to have a lot more to rely upon than the music, and three old guys struggling to gather the lost landscapes of their youths for the umpteenth time doesn't make for a spectator sport.
Mason looks the most bored, by far. Unfailingly polite, but tired out of his mind talking about this. (Thought to be fair, he's making a living again on ther nostalgia circuit, so...)
Personally, I will still live with the music. If I had to name a single band that gave the soundtrack to my life, it's Pink Floyd. For me, their trajectory started with A Saucerful of Secrets. Their famous first album was really something I consider separately to the rest, as it's got Syd on it and there are tunes on it that are ridden with 1960s whimsy which I have to confess I find deeply irritating. (I should also add that some of the lyrics are terrific - For all the time spent in that room / The doll's house, darkness, old perfume still leaves me breathless with its illustration) but the band as it is took off with the next album, found its peak with Echoes and then sort of found a plateau which collapsed when Waters insisted on The Wall (an album I actually loathe). That's 1968 to 1977 - nine years. Would you want to spend your life talking about nine years of your existence?
Pompeii is a stunning record of the band. The only thing wrong with it is that they broke Echoes in two. It's much better presented as a whole, I reckon.
A new toy. God, this looks complicated. I like the challenge, but I can see why people rely on presets
The new album is called Antiphony and - so far - is really good. Track 06 is in the bag having made a few Foleys from my time in KL. Having made that on my phone, I've tried to improve this with a dedicated recorder. I have this one from Juno which seems to be doing a job, but I will give a measured opinion in time.
24th September 2023: Now reading this:
There is one passage in this very powerful book that always resonated with me,but maybe not for entirely the reason the author intended.
"The train bore me away, through the monstrous scenery of slag-heaps, chimneys, piled scrap-iron, foul canals, paths of cindery mud criss-crossed by the prints of clogs. This was March, but the weather had been horribly cold and everywhere there were mounds of blackened snow. As we moved slowly through the outskirts of the town we passed row after row of little grey slum houses running at right angles to the embankment. At the back of one of the houses a young woman was kneeling on the stones, poking a stick up the leaden waste-pipe which ran from the sink inside and which I suppose was blocked. I had time to see everything about her - her sacking apron, her clumsy clogs, her arms reddened by the cold. She looked up as the train passed, and I was almost near enough to catch her eye. She had a round pale face, the usual exhausted face of the slum girl who is twenty-five and looks forty, thanks to miscarriages and drudgery; and it wore, for the second in which I saw it, the most desolate, hopeless expression I have ever-seen. It struck me then that we are mistaken when we say that 'it isn't the same for them as it would be for us', and that people bred in the slums can imagine nothing but the slums. For what I saw in her face was not the ignorant suffering of an animal. She knew well enough what was happening to her - understood as well as I did how dreadful a destiny it was to be kneeling there in the bitter cold, on the slimy stones of a slum backyard, poking a stick up a foul drain-pipe."
(With my emphasis)
The notion of intruding on something like this if only for a brief second appeals to a journalistic, almost voyeuristic instinct in me, where an indelible frame is captured in the blink of an eye and is gone forever. I have a few stored away, mostly captured from the views from the top deck of a bus when I was much younger and had to resort to public transport.
The documentarian style of the book is also deeply and movingly convincing, in that Orwell - the lower-upper-middle class product of a public school education - writes with the utter and unmistaken authority of someone regarding a topic which both fascinates and repels them. He writes with someone who always is conscious of the mantra that states that the lower classes smell and felt ashamed of it and yet also protected by it, it forming a bulwark between him and them across which they cannot pass. In that terrible regard, he is a completely honest commentator. In a time when honesty in any sphere - let alone journalism - is a rarity, his voice is still deeply and meaningfully resonant and still stands for something, even though Wigan Pier has become something else entirely.
There are many social commentators out there and some are better than others, but there are none that have come up to Orwell's standard. He truly understood what he was doing and did so in a manner that was not only not in anyway patronising, but which was also a confessional - as the second half of this book is. He speaks of the working classes almost as a biologist speaks of a species tht fascinates him but which also is beyond his or her understanding. That he can exert compassion too - especially in the face of an ingrained revulsion - makes that effort all the more impressive.
I've started on this one now which almost concerns the same thing, only on a more subtle level. I admit that I found some of his other works unreadable (such as the lauded Not Not While the Giro which I found a waste of time) but I have enjoyed this one as much as I have got through it so far. As an illustration of damage it is very convincing, to the point that you wonder how much of it is documentary and how much is artifice.
Much is made of Kelman's writing style, but I find it a little repetitive. I will persist with it though, as people I trust have recommended it more than once and it feels like a personal slight (or failing) not to have taken them up on their recommendation. I might even tackle his others if I have the opportunity or will to do so. These days I find re-reading a greater pleasure, which is probably something to do with finding comfort in the comfortable.
That said, the style of writing is beautiful: utterly believable and almost reads off the page like a tape recording of drunken conversations with all the meaningless repetitions, slights and offence that come with it. As someone said about another writer's work 'I can smell the fags, the lavvy and the stale beer.'
24th September 2023: Now reading this:
An interesting take on the famous Rosenhan experiment where sane volunteers opted to enter mental hospitals pretending to be insane and had to get themselves discharged, thereby 'proving' that psychiatry could neither recognise sanity or insanity and hence had become a quack science. Rosenhan wrote this up in a paper submitted to Science which caused a storm in medical circles and gave Rosenhan equal measures of fame and notoriety.
The volunteers used in the experiement - known as 'pseudopatients' - came from other walks of life, but their identities and the hospitals to which they were admitted were anonymised in the eventual paper. In this book, the author has attempted to delve a little further into the story and has found some quite compelling evidence to say that the experiment was actually a hoax, and that the only person who may have gone through with it was Rosenhan himself.
When you think about it, that's not a huge surprise. The idea of sending volunteers into a situation where they might be physically attacked by over-eager staff or violent patients, fed powerful psychotropic drugs, or subjected to some of the more barbaric 'treatment' given out to patients at the time strikes me as being hugely unethical, and reportedly struck Rosenhan's contemporaries the same way. No one encouraged it. Even stranger, Rosenhan was offered a substantial advance on a book on the subject which was never completed. That would be odd, unless Cahalan has it right, and that the motivation for the fraud was turf war between psychologists (which Rosenhan was) and psychiatrists (whose 'industry' he was attacking) where the former was losing ground to the latter.
Sadly, by the time this book was written Rosenhan had died from a series of strokes, so he could never be cross-examined, but the evidence Cahalan presents is properly compelling, particularly in light of the fact that she has access to Rosenhan's chaotic notes, none of which seem to contain original source material. Her ultimate conclusion was that he never completed the book because in doing so it would have caused him to be found out, and he was already being called out about a lot of his announcements at the time. Like a lot of stories, sometimes the best ones are just too good to be true.
Great result for Ireland here. If they can make a mess of line-outs and still win then they will go far.
19th September 2023: Really weird experience today. Idly listening, I found myself playing back an album I only completed in the last two months and then released. I had absolutely no recollection of the music whatsoever. I am glad that I actually still liked it, even though I thought I was playing something by someone else entirely.
Reading back on this:
His most consistent, I think. Its more satisfying than its famous predecessor and (dare I say it) perhaps his last decent long form work. I prefer his short stories, really. (I also find that his more political works are a bit simplistic, something that even AG admitted, and more than once)
The real problem I have with his writing is that it tends to be really rather monolithic. His narration and direct speech have almost no bearing at all in any measured reality (I saw a play of his once, and was struck by how the dialogue reeked of his prose, rendering it 'un-actable') and tends to come from the same place as his own rather weird habit of over-thinking his sentences. Worse yet, his potrayal of women is simply not realistic at all: everyone sounds like the same type of man. Those who doubt this should look to his artistic portrayal of women, where most of them look like men in a skirt with long hair. And sometimes you just long for a story about two people in a decent relationship.
If asked I would say that I both like and admire his work (it is possible to be one or the other) but on analysis I would say that I like about 1/4 at most of what he wrote. I've revisited some of his short stories, but the only novel of his that I have enjoyed more than once is 1982 Janine and that was only in certain sections. I find the sexual fantasy sections to be very dull, but do like the realler narrative surrounding it. Jock McLeish comes across as a fully realised person, as opposed to Duncan Thaw who (ironically) seems to be more artifice than actual, and never seems to be particularly credible.
Incidentally, I did have a brief encounter with the author back in the mid-1990s when he was at the Edinburgh Festival reading from something-or-other, and can confirm that he reeked of booze during the early afternoon. (Someone else has told me tht his personal stink made her want to 'retch violently') He also cracked a couple of jokes in a strangely loud and somewhat incomprehensible voice at which the audience largely laughed, but mostly because of the voice and also through a sense of encouraging embarrassment. Even if you liked him as a writer, I think even the hardiest would agree he was a trying individual, as one of his closest colleagues will attest:
When Alasdair arrived at our meeting point, the front of the National Library of Scotland, he was drunk. He stumbled in the direction of my car, arm in mine, until he decided to hook his arms over the side of a bridge and attempt a description of the history of the building below. Then he held up the printout in his hand and said:

'The point is...I'd like you to...I mean...are you familiar with Goethe's Faust? You see - I want you to read the part of God.'

I had been hearing about his imitation of Goethe's Faust for some months: now Alasdair showed me the text while holding on to the bridge. There were two parts, he said, for God and the Devil. In iambic pentameter. Alasdair could not stand unaided. How were we going to get through a performance of anything? And how were we going to fill four hours until the event started?

'How much have you had to drink?' I asked.

'I have been to ...' replied Alasdair, grandly, 'Deacon Brodie's Tavern. I met interesting people there...[remembering something]...I think they may have asked me to leave.'

'Have you eaten?'

'Today? Oh no! Do you think I should?'

After a short rest he attempted to move again, and we gripped each other's arms as we headed slowly towards my car on High Street. It's pedestrianised, but there is very little room to move - August is Festival month in Edinburgh and the madness was well underway. High Street is famous for performers, people flyering the thousands of shows on offer, competing for attention. Between the spray-painted mime artists, the buskers and the army of people selling tickets, there seemed no way through. Alasdair fell, wailing quietly about old memories, Inge, Andrew, how he no longer felt able to work properly. I dragged him upward harshly, too harshly perhaps. I was angry. Could he not have stayed out of a pub for just a few hours? Should I have kept him with me through the afternoon to make sure he stayed sober? Since when were things so desperate?

Alasdair had to sit down before he passed out. I put him at the nearest table, in a noisy restaurant on the Royal Mile, trying to think of what to do. I went outside, called Helen Bleck at Canongate, explained the situation, said we were about to eat, and could we come back to the office afterwards so Alasdair could rest? Was there anywhere he could sleep? Maybe a couple of hours would steady him - and it would give me time to cancel the evening engagement. If I could do that. After all, it's not my place to cancel things, is it? When I returned Alasdair was already drinking a large glass of red wine and had ordered pizza. Helen Bleck called back with help: upstairs from Canongate is the office of The List magazine. The head of The List is Robin Hodge, who used to work at Canongate in the early eighties. The relayed message said that Robin owned a flat just yards from their offices, respected Alasdair Gray hugely, and was happy to provide him somewhere to rest, anytime.

But first we had to get through a meal. In between mouthfuls he talked about some of his usual subjects, but more aggressively than before. Not aggressive towards me, but as if he was struggling with himself - trying to understand himself or simply to get the words out.

'It occurs to me more and more,' said Alasdair, not for the first time since we sat down, 'that my father consciously constructed me. The point is, when I think of the Readers' Book Club, that's what I think he was doing. I want you to find out about all those books...Is there a record? I remember - Ernest Hemingway ...'

After the meal we left the restaurant and I decided that, unable to bring the car on to a pedestrian street, it was better to simply go down High Street to Canongate's offices - it was only a few minutes' walk. Surely we could manage that. Couldn't we? When we got back out into the bustle of a bright Festival day, it became quickly apparent that we couldn't. Alasdair's legs weren't going to be able to cope with the downhill slope. But rather than buckle under him, they responded by attempting a run. 'The food has - given me energy!' he exclaimed, darting between performers and punters, only just missing several children and a man selling the Big Issue - which had a headline saying 'Exclusive Alasdair Gray Cover!' above Alasdair's picture of a man with a serpent coming out of his head. I ran past him. I was amazed to find that I was now chasing Alasdair Gray down a hill.

He tripped on the cobbles and went flying, head first, arms down by his side like a diver unafraid of hitting the pool head-first. At that moment I was certain he would die, skull splattered over High Street like a watermelon dropped from a great height. How was I going to explain that to Morag? Events slowed almost to a stop. His life - everything I had learned about him in person, in books, from friends, his work - all of that flashed before my eyes, as if it was me, not him, who was about to end. Suddenly I felt angry - because I knew he felt nothing - he was too far gone for that - and because I was afraid of having to explain how I let him kill himself.

Soon after I lay on the road underneath him, elbow throbbing. Alasdair was dragging himself up by a chain attached to the skip we were lying beside, and it took us a few moments to disentangle ourselves. He got up, brushed some rubble off his shirt and asked me if I was all right. Yes, I said, trying to work out what had just happened. He fell on me, or I tripped, or I tried to catch him, but if so it was purely instinctive. Maybe I didn't help at all. I don't know. What I do know is that I immediately felt I must have overreacted, because once up off the ground Alasdair seemed suddenly chirpier. Healthier, almost. He moved forward, going to cross the road in front of us, saying:

'You know Rodger, sometimes I think that women's bottoms are the only thing in the world that matters' He looked upward. 'And then, on other occasions, I think that the sky is blue and that is all that matters...Have you ever seen the sky?'

He staggered the rest of the way to Canongate's offices, and we went inside. Helen Bleck appeared, went to get Robin Hodge, and he showed us into his flat. Robin then told Alasdair which chair he could sleep in, gave us his house keys, made tea and said he was going out. We should make ourselves at home. All very matter-of-fact.

By now I was visibly shaking and had descended into panic, replaying the fall in my mind, feeling sick. I trusted none of my emotions and at one point even convinced myself that I may have dived under Alasdair unnecessarily so as to appear heroic, or so he might be indebted to me. I suspected I was capable of this. Over the next two hours, while Gray snored loudly, waking only to count the days of the week then go back to sleep, I tried to calm down. I was unable to contact the organisers of the night's event so called Bill Swainson, my editor at Bloomsbury, instead. Bill talked me down, listening to my rant about how I didn't think I would be able to finish my Gray book, how Alasdair was in steep decline - overworked, too old to cope, unable to stay away from the bottle. Two hours later, Alasdair woke up, looked around this beautiful flat he had never seen before and said: 'Good morning. What city are we in?'

'Edinburgh,' I replied.

'Excellent. What are we doing here?'

'You are supposed to be doing a reading. Very soon. I have been unable to cancel it.'

'No need for that. Shall we go?'

(from 'Alasdair Gray - A Secretary's Biography' by Rodge Glass)
I quote this at such length partly to illustrate my point, partly to make a comment on how good Rodge's book is, but also partly because it makes me laugh every time I read it.
16th September 2023: Singapore GP Qualifying. Lance Stroll spins his car into utter destruction, and walks away...
This is the sort of crash that would have killed him as little as twenty years ago. F1 car construction is something else now.
15th September 2023: Edinburgh sure has changed this morning...
13th September 2023: Deep disappointment gave way to calm resignation. Being beaten 3-1 by the #4 ranked team in the world is not that bad when you're at #30. Even if your goal was turned into the net by one of their players.
I heard in commentrary with Ally McCoist that the issue of the last own goal scored in this fixture at Hampden came up, as below. He of course blurted out that it was Mike Pejic, which had me howling at the screen until the commentator corrected him. A strange synchronicity.
12th September 2023: Deep disappointment might be doubled tonight, for we are playing England in a 'friendly'. 'Friendlies' between Scotland and England exist in the same way that unicorns and ex-KGB officers exist.
Here's the first one I have a clear memory of seeing:
Love the sideburns, David Coleman's hysterical commentary, ('the shot was good, the save was brilliant...') Scotland's swagger and the Hampden crowd singing 'we shall not be moved'. And I had forgotten about passing back to the goalie, not that David Harvey was any cop at shots or passbacks...I also liked the way that Coleman - ever the Englishman - never said anything about both Scotland's goals being scored by English players Mike Pejic and Colin Todd. Two own goals in one game kind of takes the shine off it a little, for me. Still - we won that day, and were heading for Germany for the World Cup!
We've been on a roll recently, but it's going to come to a halt soon. You have to hope not, though. The Home Internationals were a great fixture in their day, but there was only really one game we were interested in. (Well, maybe Northern Ireland when George Best was playing) Your team might have lost all their derbies, been gubbed, relegated, humilated, emasculated and demoralised, but if we beat the Bastard English in May then the season had gone at least reasonably well.
Also Kenny Dalglish put the ball through Ray Clemences's legs...if this nation ever gains independence this should be on the flag.
Also, Jim Baxter...
Not that the best is always behind us...but this is Scotland...
10th September 2023: Deep disappointment. I know they are a better team, but bad discipline and losing line outs are not really excusable. I have an idea we might pull this one off, but they came out in the second half looking like they were invigorated, whereas we just looked ragged.
9th September 2023: Have I ever mentioned just what a masterpiece this album actually is?
It's not for everyone, for sure. Certainly not for the Rolling Stone reviewer who wrote Rolling Stone review which stated that it was a '...disaster, taking the listener into a distorted and degenerate demimonde of paranoia, schizophrenia, degradation, pill-induced violence, and suicide. There are certain records that are so patently offensive that one wishes to take some kind of physical vengeance on the artists that perpetrate them.' This writer was a special kind of fud.
I still listen to it to this day, despite it first coming to my attention when I was about 16: there are not many other records I can say that about. It's resoundingly gloomy and lurches from one depressive episode to the next without a break, but all of it is expressed in such a beautiful and lyrical manner that I find it hard to resist, as if I have ever tried. But only the other day I sat down to dinner and heard The Kids in the background. At one time that was a song so utterly threatening and wrong that you would only listen to it on headphones. Now it's something for a hipster restaurant. (Then again, the BBC advertised themselves using Perfect Day whilst clearly having not the first clue what they were doing or what the song was about - also, a major, major shout out to the hugely talented Mick Ronson who orchestrated this one)
All I can say is this: if Lou Reed had only been behind the Velvets, Transformer and Berlin then he'd still be the most important person in the field of modern rock and roll. He's up there with Little Richard, Ike Turner and Elvis. I'm not kidding you. Dylan doubtless was an accomplished poet, but for all his artistry you sometimes needed a commentary to understand him. Reed used simple, direct language that spoke to everyone.
Despite all the complications.
An excellent article on Berlin can be found here.
Rugby World Cup 2023 kicking off for England...
7th September 2023: Fascinating stuff from the ever-useful and highly practical Venus Theory about how to make ambient pads using Decent Sampler. All you need is a field recording, the free Decent Sampler, some patience and a text editor. I summarise what he describes here in stages:
Step #1 - make a field recording of nearly anything you like. I made one of the sound of my street from a third floor window:
Step #2 - take the recording and run it through an EQ (probably in a DAW) to (a) take out low end rumble, (b) take off the very high end and (c) lift the recording at the points related to 110Hz, 220Hz, 440Hz and 880Hz. Those who know will recognise these as being the frequencies that relate to A2, A3, A4 and A5.
Step #3 - whilst in the EQ plug-in, adjust the Q setting so that the enhanced wavebands are very narrow. Crank the gain on these points right up and play. You should hear a steady A note (or four of them) accordingly.
Step #4 - dial down the gain on the EQ points until you get something acceptable.
Step #5 - if the recording is crackly or just a bit bright then consider hard-coding in some reverb using whatever reverb plug in you use. Some gentle attack is also handy for transients:
Step #6 - once you have this, put it into decent sampler. I have made myself a very handy template for exactly this. The key section for this is the section marked
<sample path="NAME OF WAV FILE" rootNote="69" loNote="30" hiNote="88"/>
Where the root note is set to 69 (which is A4) and where the sample is tuned down to 30 (F#1) and up to 88 (E6). Normally one tunes down, but in this case we're not after realism as much as we are after a sound.
Step #7 - once all done, play the sample through Decent Sampler on your DAW and see how it turns out.
I am aware that this needs some working on an that my techniques (and probably source recording) need some work. However, this is definitely a way forward. I suspect better recordings might come from a stereo recording (and not the mono ones made on the phone) and I need to think about balance on the EQ gain. However...this is the way to do this, I think...
The work continues...
6th September 2023: Coherence eyebrowed and released.
5th September 2023: Coherence in the can. This one was built almost entirely on Decent Sampler which is an extraordinary product, more of which later...
29th August 2023: Now playing:
Some stylistic differences here - a change from the bleakness of People and Industry, for example. Guitar sounds all over the place and quite a lot of what sounds like string synths and organs? Very eclectic stuff, and worth a repeated playing. Excellent production values too.
28th August 2023: Structure and Amorphous are released.
27th August 2023: Scotland overwhelm Georgia and England get dumped by Fiji for the first time, ever. This is a new and entirely unexpected form of schadenfreude.
Dutch Grand Prix today - six different constructors in the first six places on the grid.
That which rolls:
Long Live Pere Ubu! Our Great Phynancier! Tang Tang Tang Tang Tang Tang Tang Tang Tang Ta Tang!
"He kept a pet owl, lived on the second-and-a-half floor of a Paris apartment building, wore bicyclists' clothing for almost all occasions, was known to pronounce mute 'e's in everyday conversation, and [...] was famously fond of absinthe, which he would often drink in massive quantities with the express purpose of inducing hallucinations."
24th August 2023: Structure is marching boldly towards the end. I am surprised how quickly this one came together. Another named Amorphous came together at the same time, which was even more surprising. The follow up is likely to be named Coherence, but we will see.
I've always been interested in automatic writing, even if it seldom if ever makes any sense or provides any insight. I'm happy to say that I have a signed copy of the above work. (or signed by Soupault, at least)
The last image is not always reproduced but bears some explanation. The following is taken from David Gascoyne's introduction to my translation:
The last three pages of 'The Magnetic Fields' say almost nothing yet express a great deal. 1919 was a year of liquidation, the end of everything, but also of paroxysmic death-birth, incubating seeds of renewal. For a proper explanation of what the notice 'Wood & Coal' (Bois & Charbons) meant to Breton at this time one should turn to a passage in Nadja, too long to be transcribed here, in which the author describes himself wande- ing about Paris with Soupault and continually finding himself confronted, to his increasing annoyance, by placards displaying this announcement, un- til he began to feel himself able to predict its next appearance. There was a time when one used to see this notice outside or in the windows of bistros, owned usually by Auvergnats who happened to specialize in dealing in domestic fuel as a sideline. The penultimate page suggests that at the time of completing their joint literary venture, which at the same time they regarded as an anti-literary gesture, the collaborators shared a longing to disappear into the quasi-anonymity of running an obscure little back-street establishment, rather as Arthur Cravan had enigmatically vanished in the Gulf of Mexico not long before, or as Rimbaud had abandoned all literary ambition fifty years earlier to adopt the guise of a trader in Abyssinia.
It always surprised me that I have a signature of a person who worked with James Joyce on a 'translation' of Finnegans Wake, or at least the Anna Livia Plurabelle section. That didn't register until I saw a pictorial history of Joyce some years after I had acquired the book, and I have to admit that it sort of blew me away. One has to assume that, if he was hanging round Joyce in the late thirties then he also must have come into the orbit of a young-ish Samuel Beckett, as well as his more famous co-author and of course, Dali. Incredible.
Soupault wrote some interesting notes about his experiences with Joyce.
I'm wondering now - if AI is still behind the real curve, can it produce automatic writing that is of the same impulsive level of intentional meaninglessness? Maybe I should find out. I have the feeling that what makes good gibberish and bad gibberish is that there is a degree of humanity in the first
Well..I tried and ChaptGPT provided the following...
Les Champs Automatiques

Amidst the shimmering cascade of thoughts and dreams, the fragmented echoes of forgotten melodies dance like ethereal fireflies in the twilight of consciousness. A symphony of murmurs intertwines with the whispering leaves, as if the trees themselves have become custodians of ancient secrets. Time, that elusive wisp, stretches and contracts, revealing hidden chambers of memory where the scent of childhood lingers like a soft breeze.

Infinite corridors of thought wind through the tapestry of the mind, where doorways lead to dimensions yet uncharted. A kaleidoscope of images collides and melds, giving birth to new constellations of meaning. Shadows embrace the contours of reality, painting it with strokes of unreality. The stars above seem to converse in a language of light, their messages deciphered by the heart rather than the mind.

Voices, distant and indistinct, converge into a chorus of forgotten conversations. They speak of suspended desires and untamed passions, of journeys embarked upon in dreams alone. The boundaries between self and other blur, and identities merge like rivers meeting in a timeless confluence. Faces materialize like apparitions, each a reflection of the myriad masks worn throughout the grand masquerade of existence.

The moon hangs heavy in the sky, a luminous enigma veiled in wisps of silver. Its gravitational fingers reach into the inner recesses, stirring the tides of emotion that ebb and flow. The river of consciousness winds through landscapes of emotions - valleys of melancholy, peaks of elation - a terrain sculpted by the erosion of experience.

Eyes shut, yet inner visions bloom with a vividness that rivals the world outside. A procession of symbols parades through the inner sanctum, each bearing the weight of myriad interpretations. The pen dances across the parchment as if guided by invisible hands, transcribing the murmurs of the soul onto the canvas of reality.

And so, in the interplay between thought and absence of thought, a realm of poetic chaos emerges. It is a place where words, unshackled from the constraints of intention, gather like dewdrops on the petals of morning flowers. Here, in the labyrinthine corridors of the mind, the magnetic fields of creativity and spontaneity converge, giving birth to a symphony of expression that defies the boundaries of reason.
Not actually bad...just a bit measured, as though it was always trying to make sense.
Now, compare and contrast:
Sometimes, the wind wraps its big cold hands around us and ties us to trees cut out by the sun. We all laugh and sing, but no one feels his heart beating anymore. Fever abandons us.

The marvelous train stations no longer shelter us: the long corridors frighten us. So we have to suffocate some more to live through these dull minutes, these centuries in rags. We used to love the year-end suns, the narrow plains where our gazes flowed like those raging rivers of our childhood. Now there's nothing but reflections in these woods restocked with absurd animals and well-known plants.
This deserves an airing:
In the stump of the old tree - Hugh Sykes-Davies

In the stump of the old tree, where the heart has rotted out, there is a hole the length of a man's arm, and a dank pool at the bottom of it where the rain gathers, and the old leaves turn into lacy skeletons. But do not put your hand down to see, because

in the stumps of old trees, where the hearts have rotted out, there are holes the length of a man's arm, and dank pools at the bottom where the rain gathers and old leaves turn to lace, and the beak of a dead bird gapes like a trap. But do not put your hand down to see, because

in the stumps of old trees with rotten hearts, where the rain gathers and the laced leaves and the dead bird like a trap, there are holes the length of a man's arm, and in every crevice of the rotten wood grow weasel's eyes like molluscs, their lids open and shut with the tide. But do not put your hand down to see, because

in the stumps of old trees where the rain gathers and the trapped leaves and the beak and the laced weasel's eyes, there are holes the length of a man's arm, and at the bottom a sodden bible written in the language of rooks. But do not put your hand down to see, because

in the stumps of old trees where the hearts have rotted out there are holes the length of a man's arm where the weasels are trapped and the letters of the rook language are laced on the sodden leaves, and at the bottom there is a man's arm. But do not put your hand down to see, because

in the stumps of old trees where the hearts have rotted out there are deep holes and dank pools where the rain gathers, and if you ever put your hand down to see, you can wipe it in the sharp grass till it bleeds, but you'll never want to eat with it again
24th August 2023: Normally I'm not much of a gusher over things I like. I can like and recommend but don't usually go over the top about it. But for these, I make an exception:
I know little about what they were like before these albums, but good god almighty these are good. Where have these been all my life? These are recordings that seem to inhabit their own space entirely, like the better efforts from GY!BE and some others. To read about how they were made was also an exercise in confirmation. They were reportedly recorded in either darkness or near-darkness, and they sound like it, in much the same way that other records made this way tend to sound. (Such as Hip Priest by the Fall and Moonchild by King Crimson)
Not a clue what the songs are 'about', if they are indeed about anything. Not that it matters.
21st August 2023: Nine women that Leonardo never met..
20th August 2023: Cocks - Formless 07 contains an error in the edit. New version uploaded to here and Bandcamp. Very irritating indeed, but all my fault.
Seriously. Thank fuck they lost. Nothing against the team (who were sub-par against the Spanish) but Jesus Wept the suffering we would have had, should they have actually won it. Watching these teams play each other was a study in contrasts, with Spain seeming to know what they were doing and England looking inept, and not really for the first time.
Earps was in good form in goal (the standard of goalkeeping in the tournament was rightfully praised as being fabulous), saving a dreadfully struck penalty and Carter was looking bright enough in front of her, saving the day on two occasions. Unfortunately, I still have no idea why anyone sees anything in the rather thuggish Lucy Bronze who was dispossessed miles out of position to hand Spain the only goal of the game. I suppose we have to thank her for that as the braying from the press would have been beyond human endurance. The endless shit about 1966 and lions and the rest of it is enough to drive you to independence.
Also watching the World Athletics Championship. Can someone take a gun to Paula Radcliffe? Every time she gasp breathes in the middle of a gasp sentence I want to take a gasp hatchet to her. Kudos to KJT though. That was quite some run in the 800m against someone who is not just an all-rounder, but an 800m specialist.
19th August 2023:
17th August 2023: Found on the BBC web site this morning:
This one begs a number of comments (one of which, inevitably for me is 'who the hell is Hosier?') but what drew me to this was the statement that read "The singer added he was not sure if AI "meets the definition of art"." and then went on to qualify this by saying "It can't create something based on a human experience. So I don't know if it meets the definition of art."
What this tells me is that Hosier is bereft of any real imagination. Who says that art has to be predicated in 'human experience'? Who gets to make these arbitrary rules? And for whom? And why? To root this in my own experience: when I made the Mono series I often had no idea how any of them would sound until I pressed the button that said 'play'. Is it music? Of course it is. Is it rooted in my 'human experience'? Of course it's not. I just wanted to hear what it would sound like. Similarly, the artist that throws paint at a canvas to see how it turns out is just doing something that may or may not work out. You can of course say yes, but this is shit but that then brings this around to being a matter of taste, not substance.
I might also point out to the confused Hosier that the software that produces the AI tunes is not created by anything other than man-made means. Is that the statement of art that you are confused over? Are they not perhaps just building an instrument, just one that you cannot grasp? And if we are going to eliminate intellect from art, we're going to be ruling out a lot of some of the most beautiful things I have certainly ever seen, none of which were ever created on an emotional level at all.
As Bjorn from Abba said earlier, you can make up a tune that sounds like Abba and which people might even swear is Abba, but it's not - it's just a simulacrum of the sound. But why is that any different to a band setting out with the intention of sounding like them in the first place?
I find this sort of demented sophistry infuriating in the extreme. Music is music if it sounds like music. That's it. Even if it doesn't, if the artist thinks it's music then it is. There are plenty of musical pieces out there with nary a trace of melody, harmony or rhythm. There is even a piece of music being played right now which will take until 2640 to complete. How is that not music? And how is it possibly rooted in human experience?
Hosier needs to think before he pronounces, otherwise the rooted human experience of presets, Auto-Tune and paid songwriting teams will destroy his arguments immediately.
12th August 2023: Thanks to the BBC News Web site I've found this rather terrific Instagram account named weemadbeasties which is a collection of macro photography images of insects, mostly taken in Ruchill Park in Glasgow. The following chap might be the happiest insect, anywhere:
The next one is being called Structure.
11th August 2023:
Formless released. I re-listened to it tonight for the usual eyebrows session and found there was nothing to touch it. Formless 10 is (I think) one of my best soundscapes. It came together in three hours this afternoon. I found it unimprovable.
Were poems exchanged? Were there white-hot snatched kisses? Did we sometimes pine for the holidays to end, so that (unlike everybody else) we actually earned to be back at school? Yes, yes and yes. Did we sleep together? Well, dear reader, the 'straight answer' is no, we didn't. The heated yet chaste embrace was exactly what marked us off from the grim and turgid and randy manipulations in which the common herd - not excluding ourselves in our lower moments with lesser beings - partook. I won't deny that there was some fondling. However, when we were actually caught it must have looked bad, singe we had finally managed - no small achievement in a place where any sort of privacy was rendered near-unlawful - to find somewhere to be alone. The senior boy who made the discovery was a thick-necked sportocrat with the unimprovable name of Peter Raper: he had had his own bulging eye on my Guy for some time and this was his revenge.

Christopher Hitchens - Hitch 22, Atlantic Books, 2010
Rewatching Alan Bleasdale's GBH on Channel Four's web site. It's actually fantastic. It got ripped to shreds at the time, as I recall. Robert Lindsay and Michael Palin are quite phenomenal in it as pictures of inept malevolence and frustrated everyman.
Brilliant interview with Bjorn Ulvaeus with Rick Beato, touching on the rather thorny and de jour topic of AI in music.
Personally, I think it's all going to be a game-changer. Anyone doubting this might want to watching this as well - it persuaded me:
Also just leave this lying here - one from the halcyon days when I used to overdub everything with Mellotron...
3rd August 2023: I did this about 20 years ago now - 2004 I think. I'm still incredibly happy with it. As far as I know it's the first stereo version of this song ever cobbled together.
At the time, certainly, I was aware that no one else had done this, which I was fairly amazed about. The stereo backing comes from Stack-O-Tracks and the vocals come from the fifth (bonus) disk on the Good Vibrations Boxed Set. They don't line up at all so I had to edit the voices to suit the music. I think it amounted to about forty edits in the end. I blasted up the bass EQ on the coda to really make it punch.
2nd August 2023: This thing gets better and better the more you play with it. This one is remarkable...
Comes from an album that I never really knew if I liked or not, but a closer inspection shows that it's really a Buckingham showcase with some other stuff thown in for padding. Maybe apart from Sara. The band sound like a riot, though. The following book is as good an example as any, written by someone in the middle of it all and probably as coked up and drunk as the rest of them. That the record came out at all was a miracle, though the predecessor saw to it that anything they asked for they would get. Their idea of adversity was running out of Crystal.
31st July 2023: Holy jumping shitballs. This is impressive. UVR (Ultimate Vocal Remover) seems to be able to take out the vocals from any sound file and provide separate instrumental/vocal files with the absolute minimum of artefacts.
Illustrative examples:
Extraordinary!
One of the other thngs it of course lets you do, is separate out the vocals, straighten out the dodgy singer with some software auto-tuning, then put the vocals and instrumentals back together again. Does this work? Yes and no. Yes, it works insofar as it does what you'd expect (although any tiny vocal residue left in the instrumental track can make it all sound really), but no it doesn't make it any 'better'. One of my favourite songs ever is this one and has a factually and observably off-key vocal performance.
What happens when you auto-tune it and put it back together? It sounds wrong, that's what. There is a lot more to singing than just singing the right pitch all the time.
Case in point: most people will point to Freddie Mercury as being the top of the tree as far as rock vocals are concerned, and they would have a point. As Brian May pointed out, he was so precise with vocals that double-tracking a vocal line would often provide nearly nothing of any benefit as they were so closeley aligned and would often just phase a bit. That said, if you extract some of his a-capella vocals and put them through the horror of Auto-Tune you'll find that he was singing a little sharp - maybe by 10 cents - sometimes. Does that detract from the singer or the song? Of course not. As any fule no, singing with vibrato will eliminate that actual 'error' by fooling the listening ear into thinking that it is hearing the right note, whereas what it is really hearing is an approximation of the note with 'tonal character' that gives colour and depth to the performance.
The problem with Ian Curtis is that when he sings he has a rich tone but not the same level of control. When he tries to hold onto the note he wavered because he didn't have the technique to be able to make us believe he could do it. But the real question is this: does technique matter when you can do this?
28th July 2023: Icon.
27th July 2023: We lost someone remarkable yesterday...
'You must be Shine-aid,' he says.

'You must be Prance,' I reply.

The breakfast bar is between us. He doesn't cross it. The refrigerator is to his right and to my left. 'You want a drink?' He smiles.

'Yeah, anything nonalcoholic, please.' It being the case I don't like alcohol because it makes me puke, and puking isn't a good look for Cinderella. It also being the case my granny taught me to always say please and thanks.

He turns his back to reach up in the cupboard for a glass. Then, quick as a flash, he spins round, slams the glass down so hard in front of me that I don't know how his hand doesn't go through it, and says, 'Get it yourself.'

I've seen this before. I grew up with it. I know it like the back of my hand. I start mentally checking for exits without taking my eyes off him.

I realize I don't know where I am. I never asked for an address. I don't know how to find the front door. It's dark. I don't know how to find a cab. I'm away off up in some hills very far from the highway is all I know. And it doesn't look like he's got me here for cake.

He commences stalking up and down his side of the breakfast bar, arms crossed, one hand rubbing his chin between his thumb and forefinger as if he has a beard, looking me up and down like (a) I'm a piece of dog shit on the end of his shoe, and (b) he's figuring out where upon my little body to punch me for the fullest effect.

I don't like this. And I don't appreciate it. And I don't appreciate the assumption I'm easy prey. I'm Irish. We're different. We don't give a shit who you are. We've been colonized by the very worst of the spiritual worst and we survived intact.

Accordingly, when he shouts at me, 'I don't like the language you're using in your print interviews,' I say, 'You mean English? Oh. I'm sorry about that, the Irish was beaten out of us.'

'No,' he says. 'I don't like you swearing.'

'I don't work for you,' I tell him. 'If you don't like it, you can fuck yourself.'
Everyone goes on about the obvious one, but I actually prefer this:
This game still absorbs me. I've found a reasonable online game which plays a good if somewhat reckless game, a bit like Luckly Lucan (which I have secretly named my electronic opponent)
I was given a 'teach yourself backgammon' book when I was 12 or so, which I took to immediately. I memorised all of the recommended opening moves, the game strategies, counting the board, how to gamble (though I never did) and how to calculate the percentages on the board that allowed you to take measured risks. I can still remember them all.
This has to be a joke, right? A great album marketed into a 10 DVD set? Tell me this is a joke, yes?
26th July 2023: Function released. Very happy with this.
25th July 2023: Excellent win for the Philippines today over New Zealand in the World Cup. Time to roll this one out again, then...
That one was great fun to make, and only took about two days for it to roll out. The day after I put it on the web site, my host let me know I was under attack. It turns out that it was actually spotted by some ringtone business in the Philippines who linked to it and had it downloaded over 20,000 times in a week. It's the most downloaded thing I have ever produced.
This is coming along nicely too...
Listening to something on a recommendation from Bandcamp. Naming no names, but it seems that some people can get a proper record pressed and sold under (I assume) some sort of contract by only putting down some (bought-in) beats over a few weird atonal sounds and selling it as through it's (a) original and (b) musical. So guess where I might be heading next. I am sure it has some sort of hypnotic quality to it, and it does have the relevant sense of noise and monotony that I like from some others, but it lacks any sense of movement. Perhaps even worse, subscribing to this artist gets you a barrage of e-mails on an almost daily basis where they justify their art as a subversive political expression. I have to admit that this is lost on me. The object of persecution is persecution. The object of torture is torture. The object of power is power. The object of noise is noise.
Genius. Comedy genius.
One of the most magical expressions in music for me remains Mysterious Semblance At The Strand Of Nightmares, a piece that seems to dwell in its own world entirely and has nothing to compare itself with, even in the band's back catalogue. I used to listen to it constantly, wishing for the day I could do something like this myself.
The making of this piece has its own story. It was put together in The Manor in a freezing winter. Everything that could possibly go wrong seemed to go wrong and then wronger. Nothing stayed in tune, the speakers were blown by the thundering bass notes of the sequencer, the mixing desks broke down and the tape systems blew due to the cold. After two weeks they had barely anything to show for it. Edgar Froese and his wife had a break away from the place and returned to find the two others asleep, destroyed by constant 15 hour days. On finding them in this state, Edgar turned on the Mk V Mellotron and improvised this piece with his wife Monique working the space echo. This managed to acuire them more than their recorded output for the project so far, so they stuck to that as their modus operandi thereafter.
Anyway, the next one of mine has changed position already. It's now being called Formless and I know exactly why. It too is a semblance, just a less structured one than before.
The tenth and last track from Function is now in the can, so to speak. Time for the eyebrows.
21st July 2023: Who is voting for them in Uxbridge? Really?
This is up to standard and probably in no way surprising:
20th July 2023: Some blitzkreig work being done on this one now - working at a very fast pace indeed, for some reason, and it's coming out exactly as I wanted, more or less. It's not variations on a theme as much as it is variations on a rhythm.
I'm even happy with the cover. More or less settled on the title now too. Function may be followed up by form.
Shout out to Triple Cheese too, which is being used quite a lot here, thanks to some excellent bass thumps and pads.
Incredibly good stuff for a freebie. I could fiddle with this one all day.
Here's a preview of what will become Function 04.
That's a mix of some fairly new digital instruments as well as a couple of seriously analogue creatures too. The best combination, I think. I'm also (re)discovering the fun in micro-sampling, which is a bit of both. Take a sound source, stick it into a digital editor, find a suitable - and usually random - loop point where there is no sudden jarring, snip it out, loop it into a sampler and play.
Also, after going through sequencers by the bazillion, I have settled on the highly reliable Stochas as my weapon of choice. It's really simple to use - sequence in Stochas and route that track as an input to a synth, and that is about it, really - but the control that you can place on the sound is great and there are not a million distracting switches, dials and knobs to deal with.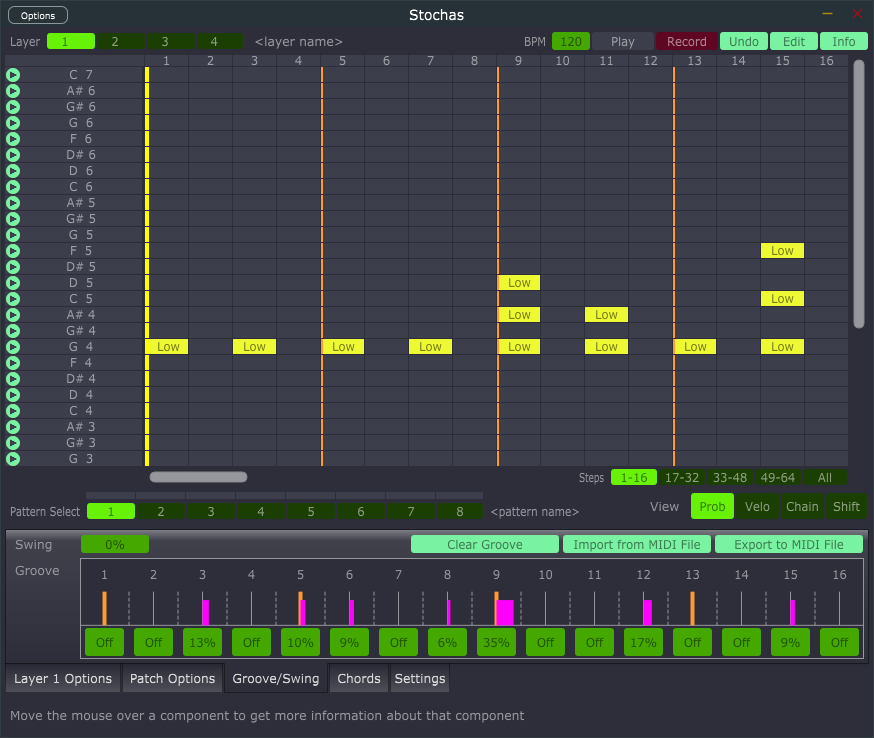 There are lots of very informative videos out there to get the max out of this, too. Here is the one for Reaper:
10th July 2023: HTEAAHI
But bootlegs exist because of a very real demand, from a relatively small constituency in any given fan-base. All music buffs start out assimilating those cherished studio albums. Many music fans never advance beyond the finished article-and good luck to 'em - preferring their artists to reproduce and remind, not stretch and transform. Theirs is a different aesthetic to that of the bootleg fraternity, who are looking for something that is locked into the wellspring of inspiration. The beauty of musical interplay-whether it be jazz, R&B or rock-is that just such a moment can sneak up on you real quick and unexpected. And just as quickly be gone. Those magical moments are invariably live-even when they happen in a studio, or sitting at home jamming. They do not happen when you get your click-track synched. They do not happen when the bass is overdubbed because during a live take the bassist got so into the song's vibe that he began to drown out the guitarist.

Clinton Heylin - Bootleg! The Rise and Fall of the Secret Recording Industry, Omnibus Press 2010
8th July 2023: Quite liking Threads so far - even if it shares the name with a BBC TV series showing a post-nuclear dystopia - but I know it's just a matter of time before it becomes the same toxic pit of sludge that Twitter has become. Those with memories long enough may recall that Twitter started the same way too...
Also just rediscovered myself here...
That really comes from a different time entirely...
5th July 2023: After some stumbles, Argentum released. Feeling quite pleased with this one, as the page suggests.
This amused me a lot:
Bootlegs had always been about access, hence the ongoing war between holier-than-thou tapers and their commercial cousins. Like the forces fighting the AIDS epidemic, those who were now prepared to speak out against Napster made for some very strange bedfellows. A typically belligerent Robert Fripp, ex-Crimson frontman, put his personal distress in an on-line diary at a time when there seemed no way of halting Napster's anarchic vision:

Robert Fripp: "The good news-Napster demonstrates the importance which people attach to having music in their lives. This is legitimate: music is a need in their lives. The bad news-the public at large is prepared to act illegitimately to serve this legitimate impulse. The challenge: to legitimise, validate and redeem the clearly demonstrated want, wish, need and intent to share with others music which we value."

"But Fripp's vantage point was suspiciously self-serving. Here was a man who continued to reissue vintage Crimson bootlegs 'legitimately' in Japan (his biggest market) but in 3-CD sets, at triple-CD prices, with largely uninteresting latter-day Discipline shows bunched in with classic Crimson titles. Napster, by allowing fans to trade what actually interested them, subverted such a practice. Likewise, the server pre-empted Fripp copying new bootlegs by providing a free download of the same within weeks of the bootleg original appearing. The Fripp manifesto, to 'legitimise, validate and redeem...the music we value,' yet again resolved down to a familiar mantra: give me my fuckin' royalties.

Clinton Heylin - Bootleg! The Rise and Fall of the Secret Recording Industry, Omnibus Press 2010
This reminds me of a post in the old Elephant Talk from 2005:
Date: Sat, 23 Apr 2005 17:01:40 GMT

From: ww55524

Subject: Inside King Crimson DVD and CD

>Inside King Crimson DVD and CD

>A statement from Robert Fripp and DGM

Does anyone else detect the whiff of rampaging hypocrisy from Mr Fripp hre?

>The Inside The Music series is a "pot of gold" for Bob Carruthers & classic rock productions. It addresses a valuable & useful area of popular music studies; but in a cheap, nasty & cynical fashion that exploits everyone & scams the artists, the music & the fans.

His beef with this issue is that it 'scams the artists, the music & the fans'. I find this a peculiar point of view coming from someone who has made part of his living by selling bootleg quality versions of King Crimson concerts, only legitimising is by calling it a 'Collectors Club' in the hope that the die-hards will fall for it. A number of the releases from the KC have been close to unlistenable in quality. I suppose no one is compelling any of us to buy into the KCCC, but then again no one is compelling anyone to buy from the 'Inside The Music' series either.

Then it all becomes clear -

Sid Smith writes:

>For several months DGM has been undertaking research on producing a compilation of archive video footage of the band in all its incarnations.

Ah. Right. Now I see. Don't buy *his* dodgy gear. Buy ours instead.

WW
I recall that one making me laugh at the time. As I recall, it was made in response to the suggestion that Bob Carruthers was nothing but a con artist. After the above was published, in response to RF's statement there was (one assumes) a legal broadside from Carruthers aimed at Fripp who came out with a fullsome apology in the next edition of ET. He also quoted the above post from WW by saying
The criticisms of your products were all taken from bona fide online criticisms on enthusiast sites. No doubt you have sufficient faith in your work, and are big enough personally, to deal with such consumer criticism as you receive. You also link to critical commentary from your CRP website.

Similarly, when I make a post to ET (on whatever subject), this in no way guarantees support for my views from other posters (historically, often the reverse). For example, from ET1205.
2nd July 2023: Icon.
27th June 2023:
25th June 2023: When one discusses musical influences, there is a tendency to describe the greatest and the best in an effort to suggest that your own output is in some way measurable against those you most admire. There are countless numbers of bands and artists who cite the Beatles or the Rolling Stones or The Who or Led Zeppelin as being their influences and mentors in creating the sound that they produce. The rather prosaic truth is unfortunately that few of them ever managed to make anything other than a mild simulacrum of their heroes and tend to fall somewhere short.
A slightly more honest approach is to say that someone inspired you to do what you did, and to pick up an instrument in an effort to express yourself knowing that they had done much the same before you, even if where you are heading is nowhere near their original destination. That is much more akin to my understanding of what an influence is on your personal art. They inspire you to do, rather than to imitate.
I have already discussed at some length the fact that Steve Moore was and remains a substantial influence on everything I do simply because he seemed to understand few boundaries to the possibility of imaginative and organic sound production. To me that is an entirely laudable thing and is something that I have strived to achieve even though I will come nowhere near his levels of invention or technical ability. The few recordings of his music that I possess are some of the most precious that I enjoy, and will likely be something that I never tired of hearing.
That said, it did occur to me recently that there are two other very important instances where music has performed an enormously influential role in my understanding. The curious thing is that neither of them are particularly obvious and both are perhaps more licences to do something rather than anything directly musical.
The first is the title track to King Crimson's masterful album Islands. This was the first incarnation of the band I heard and remains to this day one of my absolute favourites, despite the fact that many other people see it as being the very worst. Islands is without a doubt a patchy record and does have some highs and lows that could perhaps have been mitigated by more judicious effort had the band been functioning more as a unified identity at the time. Certainly the opening track is nothing short of dreadful and the closing track on side one is played wonderfully but is extremely overwrought. The real talking point of the album is, of course, The Sailor's Tale, which contains what is perhaps one of Robert Fripp's greatest ever guitar moments and which remains one of the most thrilling pieces of music of which I can think.
On the flip side there is the somewhat unbelievable Ladies of the Road which contains lyrics that one would hardly believe came from the mind of Pete Sinfield, who only two years before was writing about purple pipers and moonchildren. More interesting, though, is the title track which closes the album, and this is where I found that the main influence on my musical creation exists. It is a most unlikely tune from a rock band simply because it doesn't seem to emanate from anywhere that rock music may be found. Indeed, it almost sounds like a combination of jazz and emotionally arresting cocktail music at one point. The real beauty of the piece is found in the closing moments when drums and Mellotron fade in magnificently to restate the tune's beautiful main melody. Over the top of this we are treated to the sound of Marc Charig's trumpet which plays occasional interjections and small statements of its own to join in the swell of the music into a crescendo that is quite overwhelming. But as he does so the musician fluffs some of his notes. Under normal circumstances, this will warrant a retake or at the very least some judicious editing which is actually what happened when Stephen Wilson re-mixed the album in 2010, thereby making a mess of the original in my estimation.
My reasoning for saying this is simple: I actually like all the fluffed notes and slight problems with the timing. I also like the fact that you can hear some mixed out backing through the vocalists headphones which comes across the original mix in a tiny leakage. But most of all, I like the fact that an enormously accomplished brass player such as Marc fluffs his notes when in improvisation and (and this is the important part) Fripp had the artistic bravery to leave them in.
Why would he do this? Is it because he was wanting to capture a performance in the moment and not endlessly re-tool it to provide a more perfect rendition of his vision? Perhaps he simply ran out of time, in the way that Brian Wilson ran out of time on Pet Sounds? Or is it because he didn't really hear any of the problems at the time and left them in because it sounded fine?
Personally, I like to believe the first option: that the mistakes and the errors were acknowledged and accepted as simply being allowable error which did not detract from the enjoyment of the moment, and which in fact provided some evidence that the music was being played by human beings and not by programmed machines which arguably didn't exist at the time anyway. Evidence for this assumption comes in the form of the tiny hidden track at the end of the piece where Fripp is heard giving instructions to a small orchestra which then tunes up and stops as soon as his counting is completed. That little vignette provides exactly the same information: that all of this was created by these people who actually held instruments in their hand at that time and who played them and who were subject to the same human failings as all of us.
I took courage and inspiration from this and don't always correct every little thing that I do wrongly simply because I think it makes it a slightly more enjoyable experience to listen to. It also gives me some happiness to hear these little problems played back as it provides me with an instant recollection of where I was and what I was doing at the time.
People may be interested to hear some of my earliest works, which were punctuated by the sound of my beautiful cat jumping on the keyboards. I could have stopped it and started it all over again. But instead I chose to soldier on and in a couple of instances actually incorporate what he had done, however, unwittingly. Not only does that provide me with a pleasant memory of my cat, it also gives me a rough edge to hold on to and anticipate every time it comes up exactly the same way that some of the trumpet notes on Islands do for me as well.
Or as Eno once said in his Oblique Strategies: Honour thy error as a hidden intention.
Another quite distinct musical influence on me comes from a far more unlikely source. In 1975, Jeff Lynne and the Electric Light Orchestra released their fifth album named Face the Music. In a break with their previous tradition, this album featured far more radio-friendly pop songs with very prominent string arrangements, and became their biggest selling album to that point.
This album is a classic case of side one good, side two bad. The first four songs on the album are actually pretty good and have stood the test of time, as far as I am concerned, with particular emphasis on the opening track Fire on High which bridges the gap between the band's earlier progressive rock leanings and reaches into their newer popular sound.
Unfortunately, I find the majority of the second side to be almost completely unlistenable garbage and is really not something I have visited very often since I first heard the album when I was about 16 years old or so. However, the last cut on the album is a fantastic song named One Summer Dream, which is a surprisingly evocative way to conclude the record, if a trifle over-sentimental.
One critic even rated it as their greatest ever song and said that it is 'as beautiful as popular music gets', which is maybe a little over the top, but I know where he is coming from.
Now as many people may know, I really am not a fan of drums and Jeff Lynne's drums are about as loud and tanky as they can get, particularly on this track. They shout out I AM THE BEAT AND I. GO. RIGHT. HERE. The tom toms are extremely resonant and Bev Bevan seems to hit them with particular aggression on the breaks. I much prefer that a song has a pulse and measure of its own, either in the form of an arpeggio or some other kind of rhythmic playing, or simply in the measure of the melody or the backing. The song has its big percussion moments throughout, but at the very end the percussion drops out completely, leaving only the pulse of the music to carry itself away. That sense of playing to an exact beat and then dropping it out suddenly to reveal the measure of the music is something that I have taken to heart and have used on numerous occasions across my work.
I never thought I would ever hear myself say this but one of the biggest influences for me is the Electric Light Orchestra on one of their pop records from 1975. Lordy.
25th June 2023: This guy is Sam Battle and he is utterly unbelievable.
He's a passionate man from Ramsgate in Kent and a most seriously talented engineer who collects some of the most extraordinary sound creating things and puts them into his curated museum This Museum is not Obsolete (listed as A Museum Based In Ramsgate Kent Focussing on Experimental, Obsolete, Scientific and Musical Technology) where you can have a bash at anything you like, including an organ made of Furbys, which sounds and looks pretty ominous.
However, by far his most extraordinary project is in buying an entire church organ and fixing it up to play MIDI using the original pipes, pedals and console. The organ itself has a slightly crazy history behind it: it was formerly installed at the home of the Holy Trinity Church organist Joan by her husband Ron and his brother so that she could have something to practice on. The organ was actually built into the fabric of the house itself, with pipes snaking into the loft and around the landing, and with the organ colsole sitting at the top of the stairs.
When the house was sold the new owner wanted rid of the instrument, so they sold it on eBay to Sam Battle who does what he does with the help of his Patreon.
The videos of the dismantling, transportation, refitting and restoration of this instrument are extraordinary. Playlist here:
Update: He also did a TEDx talk where he slightly plays to the gallery, but it's good enough:
---
Mount Florida is an area in the South East of Glasgow with a most unlikely name, or so you'd probably think. It supposedly comes from the expression 'Mount Floridon' found on an auction notice for the area when the mansion house situated there was up for sale along with 15 acres of land. These days it's mostly famous for the national football team's ground being situated there. There were actually three Hampden Parks throughout history, with the first being the ground where Queen's Park started the game in 1873 before moving to a second nearby Hampden Park only a few yards away, thanks to a railway line being planned to bisect the original. Being refused permission to expand at that location they were in the market for a new location which they found on the 12 acre site where Hampden now stands. (Do many people know or care that Hampden is named after an Englishman who opposed Charles I and arbitrary taxation? I wonder...)
Hampden still stands there. The first Hampden was indeed chopped in two and all that remains of it now is a bowling green.
(Notice the ever-so-gloating mural, along with an illustration of Andrew Watson, the first black international football player) But it's the second Hampden I am interested in. This was taken over by the club Third Lanark who renamed it to Cathkin Park to reflect the name of the ground they had moved from. Strictly speaking, it's actually New Cathkin Park since the original was abandoned and, like so much of that area, built over for housing. Strangely, New Cathkin Park still stands.
Third Lanark were born from connections with the Third Lanarkshire Rifle Volunteers, some of its membership being inspired to play the game by the recent 1872 friendly international between Scotland and England in Partick which played out to a nil-nil draw in front of about 4000 people. One hesitates to call them 'fans' as the game was really not on the map at all at that point. Pointedly, all but three of the Scotland squad that day were drawn from Queen's Park as there was no Scottish Football Association to select a team.
However, the club was formed and eventually found themselves at Cathkin Park where they played out most of the club's lifetime of over a period of 95 years. They were never a great side, but they did win the Scottish Cup twice, found themselves champions once and also won the Scottish League Cup as late as 1959. They were also stalwarts of the Glasgow Cup which they came close to winning a dozen times, with it also being their last major honour winning it for the fourth time in 1963. In 1960 they put six past Hibernian to net 100 goals in a season. (They also conceded a staggering 80 that season, which cost them the league) They were never a great club, but neither were they a bad one. They were mid-table wonders for most of their time, aside from some yo-yo years of promotion and relegation from the (then) two divisions that existed in Scotland.
They also got reasonable crowds. Their record attendance was in 1954 when they were watched by 45,000 against Rangers, though it was reckoned that their ground could hold 50,000 in total. They had a most loyal fan base too, most of whom supported the club because they were not Celtic or Rangers - it was almost a point of honour that they were not caught up in the cancer on the face of the sport that is the religious sectarianism that still persists to this day, regardless of what we are told. Third Lanark's fans thought of themselves as standing above all that - they had a point to make and they made it by turning up at the ground and shouting for the Hi-Hi, the nickname given to the club by fans who used that as a battle cry, allegedly inspired by the defence's resort to kicking the ball high into the air to get it out of danger.
Sadly, it didn't last. A bent owner and bankruptcy saw Third Lanark dissolved in 1967. Things were so bad that nad blood between the chairman Bill Hiddleston (a classic cigar-chomping chancer, largely seen as the villain of the piece, who asset stripped the club out of all existence because he wanted to sell the stadium grounds for housing) and the then captain Alan Mackay saw the latter suspended from playing and banned from entering the ground, simply because the bent bastard wanted to make some sort of example of him.
This a photograph of this parasitic wanker Hiddleston. Somehow he managed to become the team's manager but was to have himself sacked from the board for an unauthorised transfer which he arranged (and for which he was made to pay for from his own pocket) but then came back in 1961 as their majority shareholder. As soon as he came back as Chairman, one director resigned on the spot, famously saying 'God help them - and God save them.' His first actions were to sack the remaining board members and sell some of their star players. Performances dropped along with the crowds - many of whom stayed away because they knew they were handing money straight over to Hiddleston - and the team were relegated to the old second division after losing 21 games in a row in 1964.
From then on it was endless disaster on a one-way ticket to football oblivion. The players never knew if they were going to be paid, and when they were it was often in coins which clearly came straight from the collection taken at the turnstiles. Oppositions brought their own soap and light bulbs, knowing just how hard the Thirds were on the rocks. The club was being driven into the ground. Hiddleston even instructed the pitch to be soaked with buckets of water knowing a hard frost was to happen, eager to have a game called off due to the number of injuries in the beleagured squad. The Scottish FA decreed that every match should use a new ball, so Thirds players were instructed to whitewash an old ball to make it look new - with the inevitable telltale white splatter mark being left on the face of the first player to head it. Rumour even has it that players were instructed to Hi Hi hoof that ball out of the ground at the first opportunity to compel the referee to recommence play with an older, used ball. In one incredible story straight from a horror story, a young player was taken off the pitch with a hideously broken arm - but Hiddleston made sure someone accompanied the injured man to the hospital to make sure the strip was not cut from him as it would be needed the next week - they only had one set.
They finished the season, but financial catastrophes saw the end of the club. They went down with 40,000+ pounds of debts which could only be settled - you guessed it - by selling the ground. The club was liquidated by an action brought about by the architects of the proposed new stand - led by a former footballer who must not have been reading the the news about how badly off the club was. In the end, the bank called in monies owed to them which were secured against the ground itself, and it was sold off to eager developers who hadn't done their homework. Their plans failed as Glasgow City Council dictated the site must remain 'open space' and always be used for recreational purposes in perpetuity. A subsequent Board of Trade enquiry (started before the club collapsed - like a post mortem on someone not quite dead yet - described the appalling Thirds operation as an 'inefficient and unscrupulous one-man business'. Four fellow directors - including Hiddleston's sidekick and Chairman Baillie James Reilly, a Glasgow lawyer and Labour councillor who was in life for the money and nothing else - were convicted of breaches of the Companies Acts and fined the sum of one hundred pounds each, a fine restricted by the court because their failings under the Companies Act were through not knowing what they were doing, as opposed to maliciousness on their part.
The text of the Board of Trade Enquiry makes for harrowing reading. Gate monies vanishing; transfer monies vanishing; advertising monies vanishing; no books kept; no AGMs; supporters' associations contributions going missing; raffles for fans held without payout or prizes; monies paid to convenient cash in hand tradesmen ...the list goes on. It's not simple mismanagement - it's systematic fraud. Or theft. Or murder. Take your pick.
Bill Hiddleston avoided any penalty imposed by the court by doing the only decent thing he had done in a decade: he died from a heart attack in a Blackpool hotel only six months after the death of the club he systematically murdered.
Ironically perhaps, this all happened in the year when Scottish football had never had it so good. The Lisbon Lions had just won the European Cup, Rangers had reached the final of the European Cup Winners' Cup, Kilmarnock were in the semi-finals of the Inter City Fairs Cup, and the Scottish international side crowned themselves as the best team in the world having just humiliated the English World Cup winners by beating them 3-2 on their own turf. As one sad headline reads, Scottish football didn't care as Third Lanark slipped away.
Never being built upon, the old ground still stands with the terracing overgrown and the pitch still intact. The rest of the infrastructure was either sold off or fell into such a terrible state of disrepair that it was condemned and pulled down.
These photographs are incredible, to me. They are like captured pictures of ghosts. There is an organisation that looks after the pitch now (hence the reason why the grass is short) and which has painted the terracing crush barriers in the Third's scarlet livery. Here is a picture of the ground as it was:
What happened to all of those football fans? Did some move on to the Old Firm despite it being the exact opposite of what they were? Probably. But it's without a doubt that the majority of these fans were simply lost to football. Clyde and Queens Park were seen as local rivals, so without a team to support that was capable of really winning anything, they simply left the game. No ground, no team, no fans. Just ghosts.
A photographer - whose name escapes me - is recreating some old press images of Cathkin Park by taking action shots of the Thirds and other major teams of the day and reshooting the image from the same spot at the deserted ground. I've seen some of his efforts and they are striking. Efforts to bring Third Lanark back to life have only got them as far as the amateur leagues, and they cannot play at Cathkin Park for legal reasons. The ground stands as monument to corruption, a now empty space where Scotland once played internationals, where Celtic and Rangers first competed for the Scottish Cup, and where Third Lanark lived for nearly a century before they and their fans were dismissed from the sport they loved, by someone who loved only the opportunities they gave him.
There are some excellent web sites dedicated to Third Lanark and their unfortunate story:
The Rise and Fall of Third Lanark AC: Scotland's Giants You've Never Heard Of
How Scottish Football Lost Third Lanark, A Cherished Club Destroyed By One Man's Greed
An amateur team now play as Third Lanark and are on Twitter.
There are also some books on the subject, though I have read none of them and cannot account for their value:
The Ghosts of Cathkin Park: The Inside Story of Third Lanark's Demise
Third Lanark: Life and Death of the Hi Hi
Third Lanark FC (Classic Matches): Fifty of the Finest Matches
Third Lanark: Champions of Scotland 1903-04 (Desert Island Football Histories)
Postscript: The book by John Litster shown above (Third Lanark: Life and Death of the Hi Hi) does have a slightly different angle on the demise of the club that might even take some (but not all) of the blame away from the repellant Hiddleston. As retold by HibeeJibee at pieandbovril.com...
It is worth saying that the traditional explanation for why (and how) Thirds went bust was significantly challenged by John Litster's book in 2010 - which went into the detail of the case for the first time. For example Glasgow Corporation itself had actually been looking acquiring the ground for housing as early as 1963 - and it was the Secretary of State of Scotland who was refusing to rezone land on Southside due to a shortage of open space as it was.

When they folded in the summer of 1967 it was held under security to the Royal Bank of Scotland against the club overdraft. It could not be sold until a Board of Trade investigation proceeded and the council (who the liquidator actually blamed for delays) wanted it for parks or housing if rezoned. It was sold by the liquidators to Laidlaws Builders or 36,500 in Jan 1968 - they made the highest bid not subject to planning permission. At that time the council still wanted it for housing themselves.

Unfortunately that aforementioned excellent book by John Litster, called 'Life and Death of the Hi Hi', does not follow the story of Cathkin Park beyond its sale in 1968 and the final dissolving of the club in 1972. It must have been subsequent to this that control over planning permission passed to the council, and they later refused permission for housing, which is presumably what the developer was playing a long game for. It was sold to GCC for parkland in "the late 1970s".
---
So why does the fate of a club that has been out of business for over 50 years and which almost no one now remembers bother me at all? Because I see striking parallels between this and politics these days. If the fans of Third Lanark were lost to football when their team went bust, whatever happened to the committed socialists who were staunch supporters of the Labour Party in April 1995 when the Labour Party did away with Clause 4 of their Rule Book and took out the section which read:
To secure for the workers by hand or by brain the full fruits of their industry and the most equitable distribution thereof that may be possible upon the basis of the common ownership of the means of production, distribution and exchange, and the best obtainable system of popular administration and control of each industry or service.
Okay, so it doesn't actually use the word 'Socialism' but it followed the definition of it exactly. So the moment when the Labour Party really became New Labour was that Clause IV moment when they abandoned Socialism in principle, moving away from the disaster of their 1983 manifesto which was described famously as the longest suicide note in history by someone who was there.
So where did they all go?
Or did they all do what Prescott, Blair, Brown and the others all did and pretend that this was their intention all along, and that the original motivations and need for Socialism was redundant and that a drift into the centre right of politics was inevitable and the only real way to manage the country? After all, people voted for Thatcher in their millions, and the only real thing that Major was let down by was a wish to get back to basics whereas his cabinet colleagues seemed more intent of getting down to basics instead? Was the right not the real way forward? Were we now only given the choice between effective management, rather than actual ideas in force to produce something imaginative and socially useful?
And what radical alternatives to Tory policy does the Labour Party now have? How will it turn the fortunes of a country which seems to have been asset stripped in the name of Brexit? What innovations do they hold? Or have they no real new ideas at all, and are only offering more of the same, only in a slightly different brand?
Not that I am saying that cloth cap Socialism is the way forward at all - I think it's a political dead end - but the people who contained its processes and maintained its ideals didn't just die out. They were actively sidelined by, or subsumed into, a new way of thinking on the left that made it indistinguishable from the right.
As someone once said, whoever you vote for, the Government always gets in. Starmer's only real advert now is that he isn't the corrupt sack of shit that Boris Johnson clearly is, but when it comes to ideas in action, there are none.
Mon the Hi Hi
20th June 2023: I find it hard to believe that I am actually watching Scotland here. Actually knocking the ball about well. Making umpteen chances. Shutting down the opposition.
OK, so the isolated deluge over Mount Florida did help...but it fell on all of us. What a performance, though.
One question does hang in the air, though. What the blazes does the back foot mean, Michael Stewart?
Playing this a lot the last few days. Never a bad time of a chime or a whistle. Littered with fantastic arrangements, especially on the strings.
My favourite...
18th June 2023: Well done, Graham Souness.
I do still recall your team being horsed out the Scottish Cup by 'lowly' Hamilton Accies, thanks to a goal by Adrian Sprott, whom I later came to know as a colleague.
The meteoric rise of 'new Rangers' was underlined by a joke that did the rounds of every pub in Scotland:
What's the difference between Rangers and a triangle?
A triangle has three points.
17th June 2023: A thing of true beauty...
It's kind of frightening that we have a Scotland team that might actually be worth watching again. I don't think I've felt like this since 1982.

>/p

Odd that it looked good at the time. Now it looks like it was filmed with a potato.

16th June 2023:From The Independent comes a lovely little factoid:

"MPs also considered Mr Johnson's tirade as he quit as an MP, in which he called the committee a "kangaroo court", to be a further instance of contempt, pushing up his recommended suspension to 90 days - nearly twice as long as Liz Truss spent in office as prime minister."

It also reminds us that "The ex-PM could be found guilty of further contempt over 16 gatherings still being looked at by police"

As usual in The Guardian, the reliably cutting John Crace eviscerates these charlatans:

"You'd have thought there was at least one Conservative MP who would still be prepared to defend Boris Johnson. The second world war Japanese soldier on a Pacific Island who was still refusing to surrender in the 1970s. Someone - other than Nadine Dorries - who was prepared to die on the hill of whether an over-promoted former culture secretary should be given a peerage.

"And all Nadine can do is howl at the injustice in the Daily Mail. She can't bring herself to resign, yet she refuses to come to the House of Commons. Hoping merely to make life a tiny bit difficult for Rishi Sunak by not allowing him to have all three byelections on the same day. Hardly a dirty protest."

Excellent. Sorry Nads. You're just another woman to whom Boris has lied.

Find out something about the UVI Falcon.
It seems this is the next big thing?
14th June 2023: Far too warm today. More than ever before I need nothing but outright, abject silence.
13th June 2023: I do believe that this guy gets it...
He neatly encapsulates just what I find bothersome about videos of people doing stupid things for the likes. It's not the stupidity of the stunt or the craven supplication of these poorly assembled bags of proteins upon the twin altars of self-loathing and I just want to be loved but it's also the extraordinary drear of the music behind them.
Plus he neatly touches upon the sheer horror of Spotify and streaming services in general. I'm under no illusions that I am doing all of this stuff in a vacuum listened to by about five hundred people tops and have about as much chance of making a living from it as I do flapping my arms and taking myself off to the clouds. I mostly do it because it amuses me and scratches a creative itch. His videos really do sometimes come across as quiet rants by someone who is talented, railing against the tsunami of monotonous mediocrity out there, but he does it in a way that (I think) is appealing.
This chap also has an excellent channel on YouTube for free VSTs, a bit of compositional assistance and music theory. Highly recommended.
On the subject of self-realisation I have listened to a fair chunk of Obliquity over the last day or so, and am struggling with some parts of it. Some seem so slight that they are hardly even 'sketches' and sound more like flailing with a crayon, to the extent that only for the second time might I pull some of the tracks altogether. I may be playing in a vacuum, but I am also not beyond self-criticism.
Follow up to Scapes in the works already.
11th June 2023: This one always interested me:
But side by side with all this, for fifteen years or more, I was carrying out a literary exercise of a quite different kind: this was the making up of a continuous 'story' about myself, a sort of diary existing only in the mind. I believe this is a common habit of children and adolescents. As a very small child I used to imagine that I was, say, Robin Hood, and picture myself as the hero of thrilling adventures, but quite soon my 'story' ceased to be narcissistic in a crude way and became more and more a mere description of what I was doing and the things I saw. For minutes at a time this kind of thing would be running through my head: 'He pushed the door open and entered the room. A yellow beam of sunlight, filtering through the muslin curtains, slanted on to the table, where a matchbox, half-open, lay beside the inkpot. With his right hand in his pocket he moved across to the window. Down in the street a tortoiseshell cat was chasing a dead leaf,' etc., etc. This habit continued until I was about twenty-five, right through my non-literary years. Although I had to search, and did search, for the right words, I seemed to be making this descriptive effort almost against my will, under a kind of compulsion from outside.
-- George Orwell, Why I Write (1946)
The idea of not actually writing anything but living life as a continuous writer is something I recognise immediately.
This is worth watching too:
He rocks a weird moustache as well.
Yes, they deserved it. And it was actually a good match, for once. Actual attacking play. Wow. How times have changed.
That one match changed European football in general - and Italian football in particular - for the better. It put an end to the dreary Catenaccio for sure. (Oddly though this was an Austrian invention - fat lot of good it did them) Whereas Milan then were more concerned about nullifying the game, Stein's Celtic simply waged all-out warfare on them, as the stats reveal. Interestingly, they may also have laid the groundwork for Total Football with the idea that everyone on the pitch could race up front and score. And every Celtic player on that pitch was born within thirty miles of the ground.
10th June 2023: It was a 1930s version of trolling. Disgruntled by his neighbour tediously practising the piano in the next-door cottage of their Holly-wood hotel, the comedian Harpo Marx responded by playing the opening bars of the famous Rachmaninoff Prelude in C sharp minor for more than two hours to drive him out. The practising neighbour was actually Sergei Rachmaninoff himself. And it stands as testament to the composer's hatred of his early work - written in 1892 during a bucolic and privileged youth in tsarist Russia - that the mere sound of it, decades later, made him pack his bags and flee the hotel.
9th June 2023: Scapes released to an eagerly waiting world.
Now just curious to see how much of the world was waiting for it. This one just 'happened' when I was least expecting it.
Also. Boris Johnson resigns immediately, Trump indicted and Nadine Dorries consigned to oblivion. A fine time to be alive.
19th May 2023: Just bought this concrete slab of wonder from Bandcamp.
I've played it through about four times now and it's a definite step up from his previous efforts (which I still rate very highly, so you understand where I am coming from). I really want to play this stuff on my earbuds as I walk through the ruins of Cumbernauld or Livingston in broad daylight. Fantastic stuff.
'With eight tracks across 40 minutes, the album offers Gordon's usual mix of mournful remorse and upbeat optimism. Gordon has now added an underlying anger that burns through on tracks such as London's Moving Our Way and A Brighter And More Prosperous Future.'
Upbeat Optimism? I hear it nowhere!
Go buy it now and fuck up a party somewhere.
16th May 2023: Intermissions (Volumes 1 to 3) released today. More about this later.
It has been difficult. And there are occasional lapses into absurdity. But there are better moments here and there, and those are the ones I like. A compilation of the best will be culled from the notebooks in due course. Until then, amuse yourself with my scribblings.
In other news...the book on the right has joined the two on the left as being hugely recommended but liable to draw you into anger every ten pages.
30th April 2023: Watching this for the first time in 20 years. Still utterly fabulous.
26th April 2023: Spirited stuff. I'd like to see this on BBC One at prime time, though.
25th April 2023: Goodbye, Harry Belafonte.
Got to love this clip.
21st April 2023: The Music Box has been released. It's about as unapologetically abstract as you can get.
It's also an unapologetic response to listening to some other incredibly abstract electronic music over the last month while I have been making little effort of my own. We are all victims of our influences.
I know that I am completely biased in favour of the things I do, and I make little apology for that. However, this one is something I have wanted to do (again) since the days of Oddzial which I (mostly) enjoyed doing very much. More will follow.
10th March 2023: Curiouser and curiouser....
The large problem I have with this tale as presented by Netflix is that it's simply speculative garbage. It posits three theories: the pilot did it, (without the least indication of motivation), the Russians did it whilst on board the plane (without the least indication of motivation), and inevitably the Americans shot it down.
All fascinating stuff, but also all swivel-eyed conspiracy nonsense which supposedly carried its own cachet because of 'distinguished journalists' and a mysterious Deep Throat character who is 'extremely well-connected'.
None of this unhelpful claptrap takes a single step in the direction of actually helping at all, and in some sense is only muddying the already hideously muddied waters surrounding the tragic loss of human life. It's not as though Netflix needs the money, they just need the sensational. Chuck in an 'adventurer' who repeatedly trips over plane debris near Madagascar when no one else could find it at all, and an Australian photographer who saw wreckage in the sea from satellite photographs and it's all just one big mucky pile of debris on its own.
8th March 2023: It's hard to find something genuinely surprising thee days musically speaking, but I think I might have found something...
I really have to get more into this extraordinary man's single-minded vision. I had already heard the compelling Salt Marie Celeste thanks to a weird recommendation on YouTube which was full of timbers creaking in the sea under a stormy sky, and helped by the title you're inevitably drawn to the vision of a ship being driven on without any hand on its tiller until its final moment.
Soliloquy for Lilith is no less surprising. Although it sounds like a repeating, morphing drone, it's actually the sound of the composer's chain of effect pedals essentially playing themselves without any linked instrument, their texture only changing due to the position of the composer's hands above them. The effect is startling. I wish I had the wit and courage to do something as bold as this. It's truly inspiring stuff.
His entire body of work appears to be utterly enormous and quite daunting. There is no 'greatest hits' to draw you in, so I guess you have to be attracted by the reviews or by the cover, or even the title. How could anyone fail to be captured by a title like The Musty Odour Of Pierced Rectums (A Collection Of Obsolete Primitive Variations)? I know I am sold already.
5th March 2023: It's hard to over-express my admiration of this man, other than to say that I hear his voice like I hear music. Whether or not one agrees with his points of view (and I don't agree with him entirely) the cadence of his speech and the music of his intellect is something I both adore and miss.
Well, we were in a cell that was probably built for six but was holding about sixteen of us. There wasn't much food and we hadn't been given any water for quite a while. The heat was absolutely ferocious. Dysentery had begun to take its toll, which was distinctly disagreeable at such close quarters. Added to this unpleasantness, we could hear one of our number being rather badly beaten by the Japanese guards, with rifle butts it seemed, in their guardroom down the corridor.
At this rather trying moment, one of my young subalterns, who'd managed to fall asleep, started screaming and flailing and yelling. He was shouting: "No, no --- please don't... Not any more, not again. Oh God please!" Hideous noises like that. I had to take a snap decision to prevent panic, so I ordered the sergeant to slap him and wake him up. When he came to, he apologised for being a bore, but brokenly confessed that he'd dreamed he was back at Tonbridge School.
24th February 2023: Sorry to hear about the death of Bernard Ingham. Wherever he is right now, I hope his arse is being violated by whatever demons he unfortunately believes in.
23rd February 2023:The Scales Fall (Part 2)
Q: One of my other questions involves Negativland, their U2 album and their use of the sample of your voice. How do feel about that? Because you didn't sue them.
CK: No, I didn't sue them. And I choose not to call attention to it simply because that would only be doing them some good, but I understand that most of them are off the market and I've never criticized anybody for playing it, I've never called a radio station and said "Don't play it." They can play it if they want to. But what it does is it, uh, unfairly misrepresents me, because that was something that was recorded by an engineer who knew that when he gave it to another engineer eventually it would become part of the mainstream and eventually it would be played on the air. That was something that was personal, something that I don't believe should have been played on the air, but it has been and there's no harm done and...onward and upward!
Q: What do you think that Negativland was trying to do? It seems like you have a right to complain about it.
CK: No, I'm not going to complain about it, it's a free country and wc have the First Amendment so...no problem, no problem. I'm against censorship of any kind. Even Casey Kasem. If they want to censor me, fine. But that's not fine. You can't censor me because I believe in the First Amendment. Nobody should be censored .
April 1992 Casey Kasem interview conducted by Dougjablin of KUNV radio in Las Vegas, Nevada, and Diana Arens of KAOS radio in Olympia, Washington.
April 1992 letter from Armbruster, Adler, Briskin & Glushon, lawyers acting on behalf of Casey Kasem.
22nd February 2023:The Scales Fall (Part 1)
"This is indulgent of me, but one man was very nice. I'd only met him once, and at that time I'd had a blazing alcoholic row with him - I can't remember what side either of us was on or what the details were, but there was a lot about Pinochet and Chairman Mao in there. That was the only time I met him, and I was just a friend of a friend.
When I broke my back, he was in America. He came to England to see me in the hospital and he said, "I want to put you in the best hospital money can buy. I'll take you anywhere and you won't have to worry about the bill." Isn't that amazing? It was Warren Beatty. Since he's the kind of man who often gets unsympathetic press, I just wanted to say there are some things about him that he himself would never talk about."
Robert Wyatt, in conversation with Bill Nelson 1992
16th February 2023: I'd change three of those titles already.
...and no mention of this man either...
15th February 2023: Probably about time I fessed up to the ten best albums ever, in my absurd opinion.
These are in absolutely no order at all and might even change completely in the next ten minutes. I should also warn you that there are some absolute cliches ahead, but also a couple of surprises. Also listed are a few almost-made-its.
Rock Bottom (Robert Wyatt)
This is songwriting that strays into the simply ethereal without ever losing sight of the fact that it's all somehow grounded in reality. Robert Wyatt gets in love songs to his wife along with a beautiful tune (and lyrics) on the subject of menstruation, as well as having Ivor Cutler and Fred Frith turn up too, bringing with them a very disembodied-sounding Mellotron and some of the most fabulous arrangements that makes this album stand well outside what is 'rock' or 'jazz' and into an area that I can only call 'Wyatt'.
I first bought this on the strength of a review in Recommended Records' catalogue, but got it at a 'nice price' from the long-gone GI Records in Cockburn Street, Edinburgh. First playing did not go well. I hated his voice, couldn't understand what a thing was that he was singing about and found the first side torture to sit though, with the exception of the line 'your madness fits in nicely with my own', which I purloined for a birthday card to a girlfriend. (That did not go down very well, but that's another story) The second side was played but I couldn't focus on it at all. It sounded too much like jazz, and frankly I hated jazz. An almost total absence of conventional drums and guitars didn't help either. Hey, I was fourteen.
Like a lot of things around that time I went back to it periodically, but never really found it engaging enough. I even noticed that Nick Mason has produced it, but that was not enough to move me. (He also produced The Damned and I thought of them as only being a novelty band who only got him there because they couldn't get Syd Barrett)
Then it all changed. I heard 'Little Red Riding Hood Hit The Road' on John Peel one night and it seemed to be nothing like how I remembered it. The words meant nothing, but they were not meant to. But it was meant to make sense overall.
Pet Sounds (The Beach Boys)
Yeah, I know it's a cliche, but it's a cliche for a reason. What always surprised me about this was that Brian Wilson took such an effort to make the music right (as evidenced by the bajillion session tapes which I have) and then record it on eight-track one inch tape reserving seven tracks for the vocals...and then mix all that down in a day. Not because he was the living pop genius, but because he could never make up his mind whether something was done or not and in the end ran out of studio time. I mean...how could they let him do that?
He was of course their cash cow and had the indulgence of Capitol Records who repaid their favourite son's efforts by hating it, letting it tank (it 'only' got to #10 in the USA) and then torpedoing it completely by releasing a greatest hits package on the back of it which outsold it considerably. To make it worse, it was repressed as a double with the moderately atrocious 'So Tough' later on which must have felt like a stab to the heart.
The great Barry Cryer said that analysing comedy is like dissecting a frog. Nobody laughs and the frog dies. That's usually true of music too, until you happen upon something like Pet Sounds which can actually stand up to being dissected. The session tapes (and mix tapes of vocals only) reveal depths that the limits of vinyl (but more probably the average loudspeakers) back then simply couldn't harness. The backing track to I Just Wasn't Made for These Times could probably stand up to scrutiny against anything you chose to name, by anyone of any time.
The songs speak of melancholy almost as an active pursuit, rather than as a temporary setback. The arrangements are off-the-scale brilliant (one of the players once told me that 'it was like he had a Walkman on and had to describe to you what he was hearing in words...his charts were not the best') and the players knew it. Those who knew music got it right away too. Just a pity that the orons at the label didn't. But in the end, Brian won. He always won.
In the Court of the Crimson King (King Crimson)
I'm not sure what else I can add to this. The needle drops onto 21st Century Schizoid Man and nothing was ever the same again. How can you play that stuff? How is it even humanly possible? More to the point, how do they play it and yet still keep a sense of sheer excitement about it? COmplicated music usually means 'impressive but ultimately dull' as far as I was concerned. Not any more.
I came to them through Genesis when I was 15 years old. The second I heard this I don't think I played another note of Genesis for at least two years, maybe even more. Getting the rest of their catalogue became a point of determination. Best of all, no one else I knew even had heard of them. They were mine.
Yes, I know all about Moonchild and I don't disagree with anyone who says it's too long or too dull or too whatever to be on the album. The rest of it stands up above it to such an extent that the 12 minutes of dead improvised air simply doesn't matter. The incendiary blast of the title track with drums and Mellotrons set to blaze more than makes up. The coda to Epitaph remains to this day one of the most heart-stopping moments in music, as far as I am concerned. Even the 'quiet' song on side one seems to come out of nowhere and inhabit a tiny space all of its own, almost like a pause between two cathedrals of sound.
The day I got it I played it twice and went to bed. The next day I awoke to wonder if I had dreamed it all. Was it really as good as I remember? Over the next three days I think I played it through about eight or nine times, still trying to fully grasp what I was hearing. That was just the first album.
Forever Changes (Love)
This is always on those lists but for once I don't think it needs revision or justification. It's just a collection of fantastic songs, played by a band who always looked like they might pull something like this off, then did, then vapourised.
The harmonious arrangements, the purity of Arthur's voice or the cleverness of the lyrics never for a second betray the fact that this was a band who never stopped fighting one another. Bryan MacLean, who wanted more of his songs on the album, turned out to be a Christian Fundamentalist. Arthur Lee turned out to be off his head, and the rest of the band were fighting, fighting on drugs, or fighting about drugs.
Perhaps more astonishingly, the album was recorded in less than a week, although some of the band performances were replaced by other professionals 'where necessary'. And it's another example (cf, Pet Sounds) of where something was finished off in an indecent haste, hated by the record company and which then went on to receive great acclaim as the years grew on. Can't someone tell someone why this is happening?
It's also one of those albums which you have to play as a complete collection, and not just as a series of picks from the whole. And it is also one of the very few albums (also, alongside Pet Sounds) where the outtakes and session recordings actually add something to the experience, as opposed to simply killing the frog.
The artistic success of this one makes the disappearance of the band's creative abilities even more mysterious. MacLean fell out for the last time and left the band, and Arthur sacked all the others and let them drift into drugs and crime, which probably seemed apt for the time. Nothing Lee touched was ever the same again. (In 2014, Four Sail was ranked number one on the New Musical Express' list of 101 Albums To Hear Before You Die.) Even the examination of his previous records show some good songs (like Seven and Seven Is) along with some complete garbage (like Revelation). Maybe Forever Changes was all we were ever going to get out of him. Maybe that's enough.
In the Aeroplane Over the Sea (Neutral Milk Hotel)
I've gone on about this one at length elsewhere too. This one inhabits a little world of its own. I only came across it thanks to a 33 1/3 book about Forever Changes which name-checked this one as being part of the same family of records which seem to come from nowhere and disappear right back whence it came.
I am still struggling to fathom this one, sometimes. It lives within its own mythology of Carrot Flowers, Anne Frank, Silver Speakers and Comely girls.
You'll never hear another sing with lyrics even remotely like this: "Your father made fetuses with flesh licking ladies/While you and your mother were asleep in the trailer park/Thunderous sparks from the dark of the stadiums/The music and medicine you needed for comforting/So make all your fat fleshy fingers to moving/And pluck all your silly strings and bend all your notes for me"
Of the album's other charms, the production is not one of them. It peaks and clips everywhere. Lots of the time (such as on Holland 1945) you couldn't tell what was playing, such is the blazing compression. It really sounds like a live band, poorly mixed, and recorded onto an old EMI cassette tape through an ITT portable recorder. Much is also maligned about Jeff Mangum's voice, but he stays fairly true throughout, also managing to bellow the lines out with an almost superhuman lack of breath.
This really is one of those albums which I 'got' immediately. Musically, if not thematically.
The Velvet Underground and Nico (The Velvet Underground)
This one came to me via a school friend who (a sign of the times) only got to hear them by requesting a track on the local radio station. It was Waiting for the Man and it hooked us both. Some time later he snagged a compilation album of their which features material from their first three albums, including a song called Heroin. We played it together for the first time and we both sat shock to the core by what we heard. It was maybe the boldest thing we had ever heard: a drone, some drumbeats, two chords...but when Cale came in and really let rip I knew I had found something that I had to delve into. I was emboldened to find they not only made only four albums but that they were all cheap! (And badly pressed at the time, but somehow that didn't matter to me as much then)
In time I got them all. I had been familiar with Walk on the Wild Side but never had I imagined that the writer for that song had lived in the same universe as European Son.
I could have put any of their first four albums here, but this was the first and was probably their best, despite the token production and the weird balances. For many years this band meant more to me than any other. It was certainly the first time I had ever heard a record and though that it might actually be 'art' as opposed to people simply banging away. I mean, they were banging away but they seemed to know what they were doing.
Without knowing anything at all about who they were or what they were doing, I knew I understood this immediately. They just seemed to be four people who liked to make a fucking racket, and I loved that racket.
OK Computer (Radiohead)
Sorry, another cliche. I actually liked this a lot less than The Bends when I first heard it and couldn'#t grasp the rave reviews which seemed incredibly dated, praising it for its prog rock credentials when the mere mention of that genre was enough to get you crucified. Sure there was a Mellotron and couple of sub-Waters basslines, but I couldn't hear much else. I even think those overrated shysters Oasis were doing much the same thing at the time.
There are still songs on it I skip. I cannot enjoy Electioneering or Climbing the Walls as they are just too ordinary for my liking. Truthfully, everything after Karma Police could be skipped, but it's the moments before that make it.
One of those moments was on Let Down where the vocals rise up again after the instrumental break. Thom Yorke accompanies himself in the most dramatic fashion I could even think of. And this was a song I used to skip!
I never trust press reviews since I think they are all loaded with hyperbole at the end of a financial incentive. For once, I found that the hyperbole didn't even do it justice. The first half of this album is so sublime that it's hard to think how they might have improved on it.
Faust (Faust)
Covered this giant already. I bought this from Ezy Ryder in Forrest Road, took it home and played it in a silent kind of amazement. I had already experienced The Faust Tapes and in some ways this was more of the same, only more intense. It was not that you could be unschooled (apparently) and do something music, but that you could do anything if you did it right.
All of their subsequent efforts were fantastic but this particular effort went off the end for me and somewhere I had never heard music even venture before. And they recorded the majority of it in one night!! I have no idea if they were or are technically great musicians or not, but they make a sound that is hard to define, harder to describe and impossible to imitate.
Of all the records mentioned so far, this one is the one that really changed everything I had known and rendered all work before subject to vivid scrutiny under a voracious and merciless inspection lamp. Not a huge amount survived. This was on a daily playlist for months.
Trout Mask Replica (Captain Beefheart and his Magic Band)
Yeah, he was a horrible person to lead a band, and the memoirs of his bandmates give testament to the fact that he was a hideous bully and the rest of it. But those songs! I bought it on the strength of an advert in Melody Maker which said 'Words still fail us!' which seemed appropriate.
It's one of those albums a lot of people claim to like, yet really hate. That makes me like it more. Like the myth of 1984 lots say they have it or like it or both, but it's still a secret irritation. My first exposure at the age of 16 was definitely that of shock. You can hadly hear the start of Frownland and not wonder about what you were actually hearing. But he was Frank Zappa's friend, and I liked Zappa so I persisted. And it worked. By the time I got to the end of the recird I knew it was a winner, even if everyone else told me to turn that damned noise off.
Grain grows rainbows up straw hill/Breaks my heart to see the highway cross the hill/Man lived a million years 'n still he kills/The black paper between a mirror/Breaks my heart that I can't go/Steal softly through sunshine/Steal softly through snow.
Pure poetry.
Impossible to overstate and impossible to ignore. I am not sure if this one really influenced anyone else in a musical sense because it seemed so impossible to play. A review of the subsequent The Spotlight Kid in the NME says it all: 'With practice, flesh and blood could play this'.
Unicorn (Tyrannosaurus Rex)
Yeah, a surprise for you. This one blew me away when I first heard it. An elf with a wobbly voice and some guy with bongos singing about fairies doesn't exactly make me want to run out and get comfortable with their work. But...'The Bard of my birth with his ballet/Walked the wild worlds in the chase/For the black chested canary/Who as a moose can sing bass'
Gary Moore was once asked what he made of Bolan's four chords only guitar style. His reply is correct: 'it's all you need'
No bad tunes. No bad singing. No bad lyrics. No one here got out alive.
Markedly better than the other two by the same duo (and better recorded) it's still pretty glorious. The duo would never have lasted another album - and didn't - because they were both pricks, as I understand it: one was on an extended ego trip, to the extent that he fired one guy to get in another guy who looked like him to act as his foil; the other whose interest in drugs was on a PhD scale wanted his tunes to feaure too, no matter how awful. Marc Bolan got what he wished for and then lost it all (both figuratively and literally) whereas the other had nothing and lost it all anyway thanks to a cherry stone. Rock and roll.
Notables
Astral Weeks (Van Morrison)
This would have been higher were it not for the fact that a couple of the songs drag (Like Slim Slow Slider and Cypress Avenue) but the title track and Sweet Thing are hard to be beat. Thoughtful lyrics as always, without the drear of Moondance.
Ruth is Stranger than Richard (Robert Wyatt)
It never gets up to the same place for me as Rock Bottom but in one way it actually surpasses it. The closing moments (Muddy Mouse (c) which in turn leads to Muddy Mouth) is one of the few pieces of music to utterly transport me. By comparison, one other is Spem In Alium which shows the company this keeps. I didn't even know the words, but it didn't matter. That sound was like something from another dimension altogether.
Dark Side of the Moon (Pink Floyd)
Another cliche? As I have said elsewhere, their best moment was (for me) Echoes and likely other sounds found on Wish You Were Here. This one floored me on first listening, but later appreciation is about the strength of the music. The floating voices and sound collages seem a little like artifice to keep things modestly weird, whereas it was widely accepted enough to be in the Billboard charts for a millenium. It was their first step towards the mainstream. Personally, I miss the failed experimentation of the past.
Led Zeppelin II (Led Zeppelin)
I first heard a tune I really liked when hearing the Top of the Pops theme at the age of 10. So I took myself down to the music guru in the town, which I presumed to be the adolescent who sold the records in the Woolworths in the High Street. I asked him what the theme was. He went into the back of the shop and came out with the answer. (I assumed there was some sort of oracle in the back room) It was Whole Lotta Love by Led Zeppelin as found on Led Zeppelin II, which he pointed out to me. It cost one twenty USP. That was eight weeks' pocket money, but I saved for it. Every so often I would travel to Woolies where I would gaze at the record of my intent and move it from 'L' to 'K' or elsewhere so no one else would get to it ahead of me. It will be mine.
Come the day, I buy it and race home with it. My dad shows me how to use the record player and left me to it. Within ten seconds I knew I had made a terrible mistake. This was the same song...but it was not even close to being what I had heard on the TV. Instead of horns and strings and stuff, it had loud guitars, drums, a singer who sang words to it and it was...all wrong. But I had spent my money on it, and couldn't admit to making a huge faux pas so I stuck it out. Eventually I came to like the song. I even played beyond the first track. And I liked that a lot too. It was a long time before I turned it over and found - drum solos aside - the other side was maybe better.
SMiLE (Brian Wilson)
I could write about this one all day. What came out eventually was a pallid imitation (even though a convincing one) of what may have been in 1966. The recordings from the earlier times feature Brian Wilson dragging his bandmates into his madness, and them more willing to join him than they may have ever suggested since. The released version also plays too hard with the track sequencing and is sometimes just too slavish to what were in reality a bunch of demos.
But do I like it? I do. Very much. The faithful knew the day would arrive.
A Night at the Opera (Queen)
The second album I ever owned and one that I couldn't wait to get my hands on. Bohemian Rhapsody was maybe the first bit of 'pop music' (though it was anything but) which I had ever really paid attention to, and having this to be able to play it for myself and not have to wait for the radio to do so (which they did about five times a day) was what I really wanted. No mistakes this time - this was the one for me and it satisfied my music needs for many years to come. Only later did I find it brilliantly crafted, melodically superb, artfully arranged and cold as ice on a welldigger's ass. Or as Bowie famously said there isn't a single song there to make you want to cry. For all its technical gallantry, it's a masterpiece of artifice, like a clockwork automaton, wound up and pretending to be human and doing it superbly, but transparently.
And that, unfortunately, was their entire career. I still like it though. Nice cover too, with a slightly odd story too.
Larks' Tongues in Aspic (King Crimson)
This is one of those records that changed my entire musical perspective. The only reason this isn't in the top list is because all that they did here was outstripped by what that band did with it live. Night Watch and USA give it better credibility. Still an outstanding masterpiece though.
Live at Leeds (The Who)
Maybe not just the best live album of all time, but maybe the greatest straight ahead rock album of all time. I'm greedy for the longer versions), but the original six tracks couldn't be bettered.
Revolver (The Beatles)
Never a fan of Pepper and found The White Album chock full of filler. Abbey Road does better than either, but Revolver is what they were best at: writing great songs about stuff and avoiding all the later self-mythologising and self-conscious attempts to be something they were losing. Okay, so it has Yellow Submarine but Pepper had the foetid mess that is When I'm Sixty Four.
14th February 2023: It's fifty years old this year. I wonder how many of us had this staring down at us from our bedroom walls?
Waters and Gilmour are both right handed, but in the poster they are both made to look left-handed, even in the background photograph. I assume for compositional reasons? I wonder why else. I also wonder what I did with these - I really have no idea.
I actually don't think it's even their best, although it does have some of their greatest moments on it. I am one of those tiresome people who think the band was made to make Echoes and then little else. That piece of music is, for me, the apex of a very steadily ascended curve, after which there was a shallow decline until 1979 at which point they started to free fall.
It's also very disappointing to read what an utter arsehole Waters has become. Truly another prick in the wall.
12th February 2023: The French will be coming for us. Nothing is more certain than that. A patchy win over the Italians, a defeat against the Irish and now facing the form team at home on the eve of a home World Cup.
The thing is though...I think we are ready for them this time, despite the likes of this:
Bring it on. The win over the English wasn't down to luck, it was down to preparation, patience and determined skill. The demolition of the Welsh was down to the same factors, aligned with Welsh mishandling and a breakdown of their discipline when it mattered. I am not so naive to assume that the French will be anything like that when we match them, but I am certain that they know they have a serious game on their hands.
9th February 2023: "AI is a big topic right now": Behringer says its DAW is still "far out" from release, VSTs to arrive before (MusicTech November 03, 2022)
This had better be outstanding when (or if?) it arrives...
Ban on Edinburgh lap dancing clubs overturned
Good. Excellent. Well done. I don't frequent these places myself, but I have two major problems with this ban:
1. The jobs of about 100 women was at risk if this went through. That strikes me as being thoroughly unfair. As the woman interviewed on the above page says I was looking to have to move in April to somewhere else where strip clubs are allowed, because I have no intention of stopping being a dancer" (my emphasis). In other words, she is making a choice and is being prevented from doing so. Which brings me to the second problem.
2. As reported here 'Edinburgh Council's regulatory committee voted to ban "sexual entertainment clubs" by a majority of 5 to 4' in April 2022 as a result of "Conservative Councillor Cameron Rose" who said that "the limit on clubs must be set at zero" and mentioned that the decision to ban strip clubs is in the "legitimate interest of women and society generally".'
I'm not about to be lectured at by the likes of Cameron Rose. He's an ex-cop, a climate-change-denier and a fanatical Christian too. We decide what society needs, not him. Fuck him. Fortunately for us, this has happened.
5th February 2023: Holy shit in a handbacket. This is a masterful cover of one of my very favourite songs...
4th February 2023: Heroic. What a victory. And in what style. I've never seen Scotland play better against anyone. Utter confidence, complete swagger and complete indifference to their opponents' stature in the game. I admit it: I thought we were going down by ten points. Now I think we will see off France.
And step forward this guy: Duhan van der Merwe...
His first try will be spoken about as long as they have been talking about Gareth Edwards' 1973 try for the Barbarians against the All Blacks.
I'm even thinking that this try will be up there as an Archie Gemmill moment in Scottish sporting history.
Finn Russell's play was outstanding...
1st February 2023: Was ever a comedy series better cast than this?
Not all the jokes have aged well - not as well as Yes Minister for sure - but that cast could not be bettered.
Now playing this for no reason, other than it's a truly great pop single:
24th January 2023: This is compelling and quite beautiful.
There is nothing like hearing someone articulate in the process of articulating. I could listen to Tim all day. Also, this guy:
23rd January 2023: And while we are on the subject...
A little like the piece I wrote way back in 2019 on why I have odd feelings for Henry Cow I find this band to be really good and really irritating in equal measure. Dagmar Krause is in good voice (although she does that whole overwrought thing just a bit too much on this one for me) and Cutler is playing like an octopus who has found a few extra tentacles. There is also a harp (chorused too) which adds some spice to the proceedings. But there is also an accordion. And there are some impenetrable lyrics which only seem less dippy than those of Jon Anderson because they contain grownup words like 'numenous'.
I got Work Resumed on the Tower as a subscription from Recommended Records and even got a slightly irritated but welcome letter from Cutler when I wrote to him saying that I liked it but... It was a beautiful presentation too, as were all of their subscription items. It moved along nicely at first (unless you overlook the initial gibberings of Krause at the start which Cutler told me was the song of the Sirens, something I found would send me tacking off into the wind in the other direction, thanks very much) and the sparse arrangements worked (I thought) really well.
The problem is that you soon got all the usual Lindsay Cooper tropes working their way into the process: the odd tunes which seem odd by a perverse will, rather than because it seemed like a good thing to do; the instrumental break which features exactly the same melody on reeds or piano, which seems a bit lame, really; unison passages that seem to scream out 'now it's time for the unison passage'; the weird saturated crunching moments of 'over-extended machinery'...and there are the lyrics. Not that I mind intellectual wanderings, but some of them are just all over the place: My veins ran thick / With petrol / My rulers bled me / I fell as I was / Felled before - / When I was / Wood / And knew no / Evil Yah man. It's the Obvious Politics People come to club you round the head with our message. Mind you, I don't have many songs with other grownup words like oriflamme in them.
The good bits though are sumptuous: the weird off-tangent tango on Victory, the bassoon following the voice precisely on Devils, the tireless skirl of roundabouts and swings on Dry Leaf and that harp on Klein's Bottle. The production is imaginative, the arrangements deeply subtle and the overall package something like what I'd much prefer the Art Bears to have become.
Most charming of all: they released Contraries as a single. Maybe the first single with the grownup word quiddity in it? Beat that, pop-pickers.
For the truly bizarre see the closing number Anno Mirabilis whose lyrics try to describe a wonderful year, but which I find oddly in disagreement over. Yeah, end wars and all that, and I might even put up with 'ownership of all devolved on all' for a bit, but it's when it gets to 'The year no lock would hold / No act of violent will prevail / no order find its tongue' that I have a harder time. Not all orders are bad orders. Not all violence is unjustified. Not all locks are bad locks. For all their literary smarts, there is a core of simplicity at the heart of this.
And then Phil Minton starts up. His ludicrous voice ('his vibrato sounded like he was driving a tractor over a ploughed field with weights tied to his scrotum') utterly overpowers everything, with an unintended (I hope) comic moment when, as Krause ascends the melody he has to drop back an octave, fearing a prolapse is about to find its tongue in a recording studio. Tragically, reading Minton's Wikipedia page makes him sound indistinguishable from shite: 'He is perhaps best known, however, for his completely free-form work, which involves "extended techniques" that can be as unsettling as they can be mesmerising. His vocals often include the sounds of retching, burping, screaming, and gasping, as well as childlike muttering, whining, crying and humming' Hard pass.
Those who doubt this are invited to attempt the following recording. Anyone making it past nine seconds beats me.
Still, I really liked what I heard: enough to get their next (which was actually better - it had Robert Wyatt on it!). More tunes, better rhythms, more variance. A better record all round, really. But the first still seems like a magical thing. Not totally sure why,
And talking of Sirens and Odysseus, there must be an anniversary coming up of the time I bought this edition:
I remarked to a friend of my parents - an English teacher no less - that I was reading it, and her retort was that it was one of those 'dirty books', which gave a cue for my reading material to be vetted. I'd have had her run out of her profession for that.
22nd January 2023: And talking of the terminally weird...
This beautifully packaged pile of irredeemable garbage is Sun Ra's Nuits De La Fondation Maeght ominously subtitled 'Volume 1'. I bought this one on the basis of a frantic review from Chris Cutler in the Recommended Records catalogue. I have managed to get through side one a few times and side two exactly once. It is an unintelligible piss-take. If there was actually a rapturous audience there it would have been about three Frenchmen with nothing better to do with their lives. Side one has what might pass description as 'music', but side two sounds like someone tuning up a Moog. Or vacuuming the front room. It's a you had to be there moment. I should probably try and sell it, but there is something about it that makes me know I'd regret doing so.
I'm now getting nostalgic for Chris Cutler's handwritten catalogues and those fantastic sounding records which cost an utter fortune (because of 'supply issues') and subscriptions which were beautiful bu always very late, and the ReR Quarterly, the very medium through which Steve Moore came into my vision and really never left it.
21st January 2023: From Stretch out Time 1970-1975" by Andy Wilson
...try to imagine a major label today agreeing to provide an unknown and unproven group with a dedicated recording studio and living quarters as well as allowing one of their foremost engineers to be permanently on hand.

"he drank a lot, he worked a lot, he played a lot. He was an extremely exhausting man"

"[he came] from Friesland, a peculiar place where the people could never be tamed or subdued neither by the kings or invaders nor by the constant bad weather and the endless flat land. He did not talk much, made dry jokes, was quietly brainy and carried a gun. He played guitar and knew loads of jazz chords. He played sax also, inventing a technique consisting mainly in numbers and maths rules"

"[he was] a reincarnation of a taxi"

The decisive factor was that the studio was available day and night. This allowed [them] to live semi-nocturnal lives, spending many nights, razor blades in hand, repurposing the material recorded during the day to create the collages that pepper their greatest releases. Such total access to, and control over, the recording environment was almost unheard of for a rock group.

In short, [the label's] ambition landed [the band] with the perfect environment for making a new kind of music. The role of the studio in this new setup was no longer to capture music existing prior to, apart from, or independently of the act of recording. [The] studio was used to make music that had never been heard before and could not easily be repeated by the band, if at all, turning the studio and its technology into the main instrument of composition and sound generation.

The development of disc and tape recording changed the identity of music slowly but irrevocably over the course of a century in which the focus of music shifted from performance, live and in real time, to a reliance on studio craft and an approach previously associated with painting - gradualism, the careful preparation of materials, and trial and error procedures. Similarly, the base resources of music, the sounds out of which it is made, were transformed. No longer bound to traditional instruments, the conventions of folk music, the blues, or the limitations of conventional notation and ideas of composition, in principle at least musicians could now work with every possible permutation of noise directly, taking existing sounds and manipulating them iteratively, feeding them back for further treatment, processing and reorganising them over and again until they achieved the results they wanted, results that were not necessarily even imagined before they were produced.

Along with new technologies and the unique social situation at [the studio], other forms of experimentation were tried. [One member] reports that in the early days the group "played 'Blue Danube'...and to make sure that it sounded different from any version you might have in mind, everybody had to play the instrument that he least knew." Such an approach was not new in itself - Sun Ra had done something similar on his album Strange Strings (Saturn, 1967), for example - but it was rare for a rock group to take such extreme measures.

All the while [one of the band] struggled to herd his pack of fleas in some kind of direction and keep the label off their back. Every so often they would send a tape of work-in-progress to [the label], though these were as likely to contain studio experiments or location recordings as they were any kind of group playing or rock music; one was made up exclusively of recordings of the traffic passing through [the town] on a single day, another contained "pure blasts of noise, the sound of someone cleaning dishes and us all trying to impersonate a female choir."

[He] nevertheless managed to persuade the label that they were making progress. For an entire year he succeeded in keeping [the label] at bay. Finally they could be put off no longer. They demanded to hear the results of their investment, so the group hurriedly convened to assemble their first album: "we tripped and took LSD, and we had to make the record in one night".
I bought the album in 1983, second hand. The plastic sleeve was split such that the record would drop out, the plain silver label a bit torn and the record crackled a little, with a couple of loud pops for good measure. I played it and a recording of The Rite of Spring every day for about six months. Together, they probably changed my life and certainly changed my musical perspective forever.
Update: I bought this album from the legend that was Ezy Ryder in Edinburgh's Forrest Road. Run and owned by the deeply obnoxious Bert Muirhead (one of a delusional type who thinks he is in 'the music business' because he sells or writes about other peoples' products) It was sadly the best place to get second hand vinyl in the city. That meant having to deal with this fuckwit regularly. I objected to handing over cash to him, such was his smug expression.
Having quoted the book above I started looking for any links to Ezy Ryder I could find and tripped over this web site which has an amusing story with a moment of synchronicity in it that left me a bit taken aback. I quote from the web site here in full:
"In Edinburgh a chap called Bert Muirhead was legendary for his rudeness. Unluckily for us, he also ran the best second hand record shop in town - Ezy Ryder. Along with his long suffering assistant Eric, I first encountered him when EZ was based in the Oddfellows Hall and I then followed them round their assorted shops before they finally petered out in the less salubrious Dalry Road, a place only renowned for being my birthplace.

"Subsequently Bert would still have a stall at various record fairs and continued his rudeness there. The two best know stories of him involve Freddie Mercury and Faust.

"I think they were in their Tollcross shop when Freddie died. As you would expect when a famous musician dies, the next day saw everyone trying to buy some Queen records. But not in Ezy Ryder. Bert put all the Queen stock in the basement and refused to sell it to customers with a cry of "if he wisnae good enough for you while he was alive, you're not fucking getting it now he's deid". In fact, not a visit went [by] without him berating someone for their perceived lack of taste.

"He didn't mellow in his record stall days as the story is told by an Aberdeen resident who'd frequented Ezy Ryder back when he was a schoolboy living in Fife of a trip to a record fair in Aberdeen where he asked if they had anything by Faust. "We sell music, no fucking noise" was the roared response. And sure enough, twenty years older but still angry. There was Bert. Happy days. He still exists on Ebay where you can buy original copies of his seventies music mag Hot Wacks.

"I was lucky. As a 13 year old record virgin, the first record I bought off him was "If You Want Blood" by AC/DC. He never picked on me!" (Stuart Hamilton)
Incredible coincidence that. Also, a bit odd. I bought all three of Faust's first albums from Ezy Ryder, so Bert was pretty much full of shit when it suited him to be. I also bought some pretty extreme stuff from Sun Ra there too in their pretty impressive jazz section.
In some ways he reminds of the other retailing misanthrope, Willie Ross who owned and ran the Oxford Bar in Thistle Street and who would refuse to serve you if you were English. 'It's either beer or it's whisky. Anything else is a poof's drink', he once informed a suitably taken aback customer in my earshot. Sadly, both Ross and Muirhead sold a quality product, so boycotting them was never an option. There was also always the chance that you might witness an outburst too.
20th January 2023: Love this style:
15th January 2023: We're catching up on this masterpiece again...
The dialogue is as well written and wonderfully delivered as ever. His take on booze is remarkable.
"I'm scared that if I stop all at once, the cumulative hangover will literally kill me."
"A Martini is made with gin. If your Martini is made with vodka, it is not, in fact, a Martini. And odds are that you have a vagina."
"I doubt the robot has any bourbon, and I'm not really in the mood for a WD-40 and Coke. Unless that is, literally, the only thing to drink."
12th January 2023: Oh wow...
11th January 2023: Love this moment. My two childhood football heroes (neither of whom were Scottish and only one of whom I ever saw play in the flesh) coming together in a magical moment of genius from the man in green. It should never have been disallowed in a million years.
When I was maybe 5 or 6 I contemplated the irresistible force paradox without knowing it. I considered what would happen if the goalie who always saves was faced against the striker who always scores. It wasn't Best who I thought about at the time though, but the Brazilian who was widely regarded as the greatest player ever to take the pitch, and of course the question was answered for me in an iconic moment which frankly I have never been able to fully comprehend.
In Walking on Glass, Iain Banks posits a few answers to the riddle, being any permutation of 'The immovable object loses; force always wins!' or 'They both disappear in a blaze of radiation' or 'There's no such thing as either' or 'The unstoppable force stops, the immovable object moves.' I found the third most convincing, in that if there was such a thing as a truly immovable object then there would be no such thing as an irresistible force, and vice versa. Or to put it another way, Pele and Banks were not the superhuman heroes I made them out to be. Then I watch them play and wonder about that all over again. Of course, in reality the immovable object won but only through an act of almost perverse movement, so perhaps the question was never really answered at all.
Qrius 15th July 2022: The 'Omnipotence Paradox' Explained With A 'Frame Of Reference'
7th January 2023: Re-reading this trilogy now. Just finished the first, moving on to the second now.
Just about the only author of fiction I can stand to re-read, with the exceptions of Joyce, Kundera and Orwell.
6th January 2023: Oh this stuff is clever. Music programmed via Javascript...
An edited (down) version of a recent tune with a bit of slightly better mastering as well. One of my favourites.
4th January 2023: Incredibly, this man - arguably the finest British F1 driver ever - still holds records to this day.
Eight Grand Slams (defined as pole position, win, fastest lap and led every lap - 1962 British Grand Prix, 1963 Dutch Grand Prix, 1963 French Grand Prix, 1963 Mexican Grand Prix, 1964 British Grand Prix, 1965 South African Grand Prix, 1965 French Grand Prix, 1965 German Grand Prix

Highest percentage of laps led in a season - 71.47% in 1963

He also got 100% points in 1963 and 1965

He's also third on percentage wins at 25 wins from 73 entries (34.25%) coming behind Ascari and Fangio who had 33 and 52 entries respectively.

Joint third with most consecutive wins at the same Grand Prix (4): Belgian 1962-1965 and British 1962-1965

Second on percentage pole positions (45.21% - 33 poles from 73 entries)

Third on percentage fastest laps with 28 fastest laps from 73 entries (38.36%)

Fourth for leading every lap in 13 races, beating Stewart, Schumacher, Ascari, Prost, Rosberg and Verstappen
And he's still the only man to win the Indy 500 and F1 championships in the same year. (1965)
Jim Clark. Farmer of Chirnside.
3rd January 2023: Some more amusing moments from the pen of KW...
On that last note, I was surprised and mildly horrified to hear that the part of Lenny Godber in Porridge almost went to Paul Henry, he of Miss Doiaaanne/Crossroads fame. To be fair to him I don't know how that would have worked out, but the way it did work out makes me wonder about the wisdom of that idea. (I actually preferred Richard Beckinsdale in Rising Damp with the most stellar cast ever to grace a sitcom).
2nd January 2023: Testing, testing....
1st January 2023: Just to sum everything up. Fantastic.
The fragrant Ken Williams quoted from his 1981 diary of this date. An outstanding read if you can find it, but never has a book been drenched in so much self-loathing. Hating what you do is bad enough, but hating what you are must be unbearable.
Schrodinger's Cartoon
Thank heavens we missed this. It sounded like it was abominable.
Archived Journals